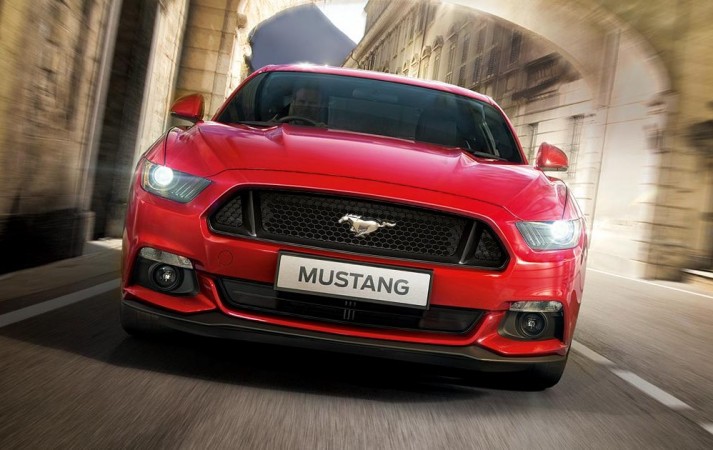 Ford India confirmed in January its iconic muscle car Mustang's India entry in the second quarter and informed that the car will feature flagship V8 engine. However, the India spec model will not be as powerful as the U.S.-spec and UK-spec models even though all the three specs will be using the same 5.0-litre V8 engine.
The car listed on India website shows the 5.0-litre Ti-VCT V8 engine would develop 396bhp and 515Nm of torque mated to six-speed automatic transmission. The same engine for the UK develops 410bhp and 530Nm of torque, while the U.S. spec will develop 435bhp and 542Nm of torque. In comparison, India-spec model will develop 39bhp less to the U.S. spec Mustang. It remains to be seen if this will make variations in acceleration and top speed. The reduction of power could be due to the recalibration to adjust domestic fuel quality, which is lower in comparison to the fuel quality in the UK and the U.S., NDTV Auto reported.
Three units of the India spec model have been spotted at the yard of Ford's Gujarat plant recently. Three Mustangs in Race Red colour seems to be the first batch of four Mustangs Ford India imported in Mumbai from the U.S.
Unlike the other vehicles in Ford's stable, the Mustang is an iconic model: It is the only model in Ford's line-up that does not use the company logo. The car features a dedicated logo of a horse that denotes compact, quick, agile and sleek, according to the company. The Mustang belongs to the pony car class with sports car like coupes having long hoods and short rear decks.
Estimated price for the Mustang hovers around Rs. 50 lakh and Indian market entry will be during the festive season.