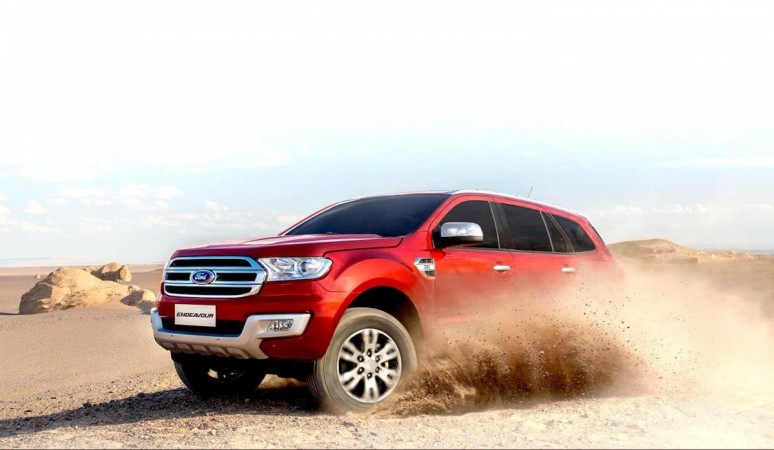 US auto-major Ford has revised the prices of its SUV, Endeavour, in India nearly two-months after the prices of the models were updated. With the latest revision, Endeavour has received a price cut of up to Rs 2.82 lakh.
While there is no change in the prices of the 2.2L 4X2 MT Trend, 3.2L 4X4 AT Titanium and the 2.2L 4X2 AT Titanium, the price of the other three variants have been slashed. The 2.2L 4X2 AT Trend is now priced at Rs 23.78 lakh after a price cut of Rs 1.72 lakh from the previous Rs 25.5 lakh. While the 2.2L 4X4 MT Trend variant saw a drop of Rs 2.82 lakh in the cost, the 3.2L 4X4 AT Trend price has come down to Rs 25.93 lakh from the previous Rs 27.65 lakh.
The Ford Endeavour was launched in India in January 2016. Offered in a total of six variants, Endeavour comes in six body paints -- Sunset Red, Golden Bronze, Diamond White, Panther Black, Moondust Silver and Smoke Grey.
The third generation Endeavour is pitted against Toyota Fortuner and Mitsubishi Pajero Sport in Indian markets. Under the hood, the all-new Ford Endeavour houses two TDCi diesel-engines -- 3.2-litre Duratorq five-cylinder TDCi diesel and 2.2-litre Duratorq four-cylinder TDCi diesel units. While the 2.2-litre engine develops 158bhp and 385Nm of torque, the 3.2-litre engine develops 197bhp and 470Nm of torque. In the 2.2-litre version, the engine comes paired to both a six-speed manual and automatic transmission and claims to deliver a mileage of 14.12 kmpl with manual transmission and 12.62 kmpl with automatic transmission.
All-New Ford Endeavour price list (All prices Ex-showroom Delhi)
| | | | |
| --- | --- | --- | --- |
| Models | New prices (Rs) | Old prices (Rs) | Difference(Rs) |
| 2.2L 4X2 MT Trend | 25 lakh | 25 lakh | No change |
| 2.2L 4X2 AT Trend | 23.78 lakh | 25.5 lakh | 1.72 lakh |
| 2.2L 4X4 MT Trend | 23.78 lakh | 26.6 lakh | 2.82 lakh |
| 2.2L 4X2 AT Titanium | 27.5 lakh | 27.5 lakh | No change |
| 3.2L 4X4 AT Trend | 25.93 lakh | 27.65 lakh | 1.72 lakh |
| 3.2L 4X4 AT Titanium | 29.76 lakh | 29.76 lakh | No change |