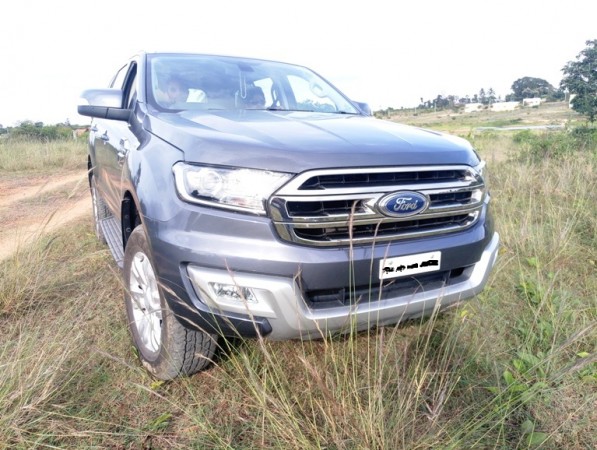 Ford is a reliable car brand in India, which has delivered a wide range of entry-level and premium SUVs, crossovers, sedans and hatchbacks over the years. Ford Endeavour 2016, being their latest addition in their promising SUV range, unleashes what can be called a true monster on the roads.
Over the course of six months and counting, we had a chance to spend quite a long time with Ford's latest machine, and here's our long term review of the 3.2 4X4 AT (Trend) variant. From off-roading to lengthy highway cruising and the Ghat roads, we've experienced it all.
During this review, we were able to check the car's potential to its fullest, its first free service and the fuel efficiency, which accounts for an important factor while considering purchasing a new car. In the SUVs, one cannot expect the best fuel efficiency.
We'll start off with the exteriors and the interiors of the Endeavour before diving into the performance aspect and finally the conclusion.
Exterior
Ford Endeavour flaunts a refreshing design on the outside, which is a long way from its predecessors. If we consider the current market condition, the 2016 Endeavour has the best looks for a thrilling SUV (Of course, there's a new Toyota Fortuner coming our way to steal some limelight).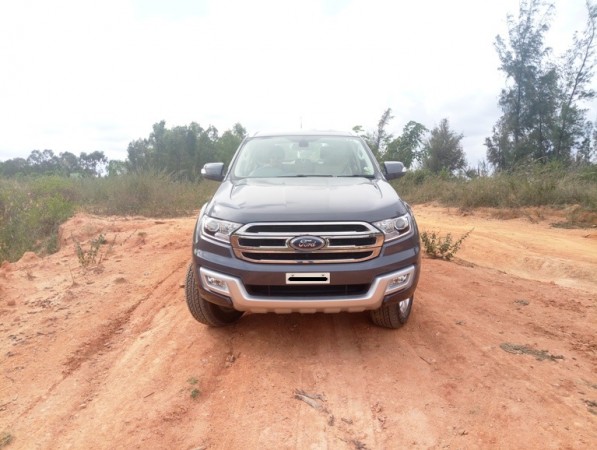 The new Endeavour measures 4,892 mm in length, 1,860 mm in width, 1,837 mm in height and has a ground clearance of 225 mm, which we found extremely useful during off-road driving. The massive grille in the front with chrome and a big blue Ford logo gives a standout view. There is a skid plate connecting the fog lamps on the front bumper, the need of which wasn't felt during our review but certainly a useful addition.
Although we reviewed the Trend model, the Titanium variant flaunts projector headlamps with Bi-Xenon illumination and L-shaped LED DRLs. The day time running lights seemed a bit odd, which makes the Trend variant look more appealing. But it certainly isn't the reason not to experience the high-end variant with a lot more other useful features.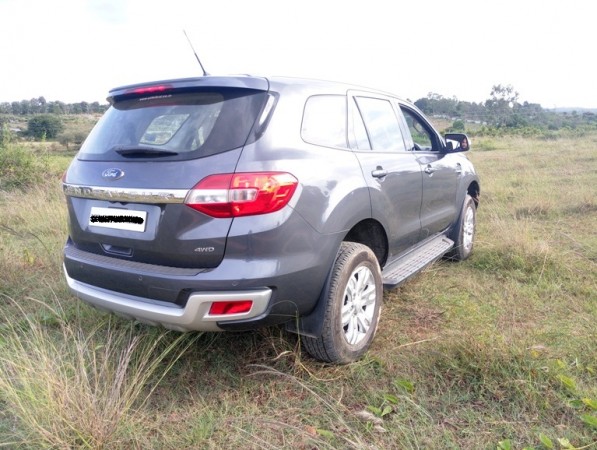 On the rear side, there are box type tail lamps (the Titanium variant has LED lights), which look quite ordinary. There is a large chrome plate running between the tail lamps with Endeavour written on it. The SUV features a16-inch alloys and 18-inch tyres, which keeps the safely car elevated from the ground.
Check out some close up shots of the 2016 Ford Endeavour below: [Slideshow]
Overall, we would like to give Ford Endeavour full marks on the exteriors as it is one of the few good-looking SUVs we have in the market currently.
Interior design
In terms of design, Ford Endeavour has one of the finest and most refined looks in the SUV class. The interiors supersede that of Toyota Fortuner and Toyota Innova. But it's not the looks that matters all the time.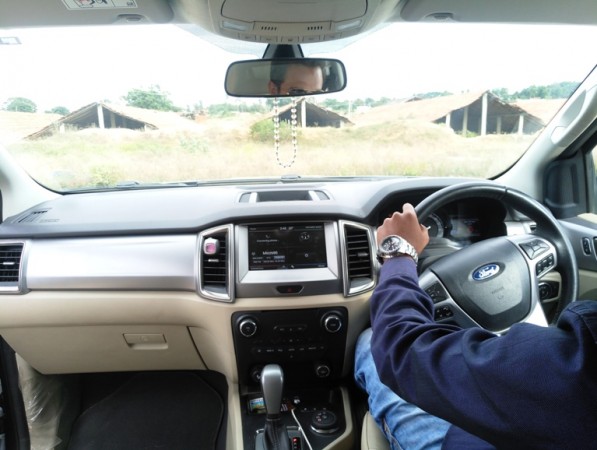 As great as the Endeavour drive is, making you forget every little pothole on the roads, the comfort levels do not match. The front two seats are the most comfortable ones, but the rear and the last row is something of a worry. We travelled with 7 adults in the Endeavour to test how comfortable the ride can be. As it turns out, the rear seat fits 3 adults but lack of enough leg room makes it a tad uncomfortable. But the last seat should only be reserved for kids, as adults will have a hard time to adjust. The thigh support in the rear and last seats is inadequate, making long drives tiring if traveling with 7 or more people. We would see this as the only setback in the interiors.
Other than that, Ford has filled its latest SUV with plethora of features. There is a 10-speaker music system, which is controlled by an 8-inch touch screen infotainment system powered by Ford SYNC 2.0. Once paired with any phone via Bluetooth, driver can control all the functions, including music, calls and volume right from the steering mounted audio controls. There is a dedicated section within the speedometer towards the left, which shows phone navigations so the driver isn't distracted while driving.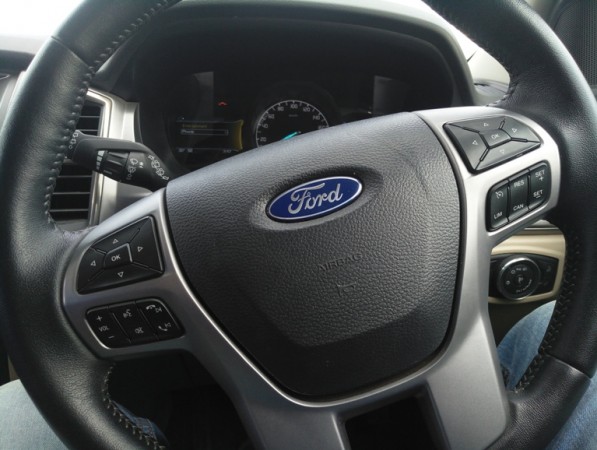 The driver also has a voice assistant button integrated within the steering to initiate quick commands. One of our favourites is the air conditioning of the Endeavour. It is by far the best in its class, thanks to the dual zone automatic AC. The Endeavour Trend variant comes with 2 airbags, both on the front for driver and the navigator, which is quite disappointing for its price.
Check out the Ford Endeavour's interiors below: [Slideshow]
Performance
In terms of performance, Ford Endeavour 3.2 is a beast. Despite its automatic transmission, we barely felt the need for manual, which is a rare thing. The gear shifts were smooth with good initial pick up and no turbo lag. The SUV is powered by a 3.2-litre five-cylinder unit, which is a powerful setup.
Ford Endeavour 3.2 has 197PS and 470nm torque with 6 speed automatic transmission. But those who prefer manual, there is a sports mode for that. Driver can switch between automatic and sports anytime and feel the accelerating power while manually shifting gears.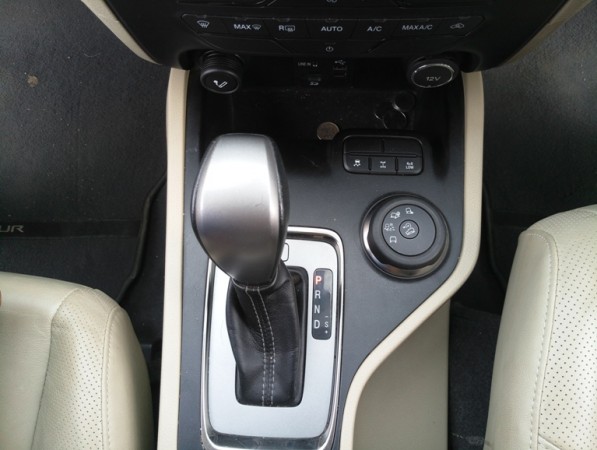 Ford Endeavour is an all-time 4x4 with manual 2x2 traction control. With a top speed marking of 200kmph, this insanely powerful machine is bound to touch the maximum limit. But there were plenty of features for us to explore.
There is a smart selector dial to shift between sand, snow, hill descent drive modes. Ford has taken a page from the Range Rover on this one and you won't find this setup in any other cars in this range. We tested the Hill Launch Assist and Descent controls and works perfectly while driving in hilly regions. Cruise control is another useful addition, which can be controlled entirely from the steering mounted controls once activated.
Ford Endeavour beats its rivals with a unique noise cancelling technology, which does allow the engine revving sound inside the car cabin. And it works as promised.
The braking is also great and reliable, which is essential for Indian roads. Ford has added ABS with EBD (electronic break distribution) for a better grip on the road. All four brakes have discs, a feature which is not available in the current-gen Toyota Fortuner.
The model we tested does not come with Parking assist, but it is one of the major highlights of the Titanium variant. It is said to work seamlessly. There are automatic vipers and the rear view camera has the best view with direction assist for easy reversing – day or night.
Finally, we tested the Endeavour's fuel economy in both highways and city limits. Ford Endeavour delivers 7kmpl in city limits and 9-10kmpl on highways. In comparison, Toyota Fortuner runs about 8-9kmpl while Toyota is more fuel efficient at 12-13kmpl.
After-sales
In our first service of the Ford Endeavour, which was free after driving 2,500kms, there were no repairs necessary. The next service is after completing 10,000kms or annually.
Verdict
In our view, Ford Endeavour 3.2 4x4 is a worthy companion for off-roading and long distance travels. The 3.2 4X4 Trend variant starts at Rs. 23.78 lakh (ex-showroom Delhi) and goes up to Rs. 29.76 lakh (ex-showroom Delhi) for Titanium. See price list for other states here.
It has plenty of features that are not available in any other SUV of its range. But if you like to weigh your options, wait for the Toyota Fortuner 2016 launch, which is expected to happen in early November. Both SUVs will come face-to-face in a stiff competition for luxury SUVs.
Despite having to spend such high prices, there are some basic feature that are missing from this SUV, which are worth noting for potential buyers.
Cons
Auto dim rear view mirror unavailable
No telescopic steering
No automatic headlamp for this model
Only 2 airbags for this price
Leg room in last row is less, second row has adequate space.
Power seat adjust for driver's seat only.
Auto power up n down for windows only for driver.
No cooled glove box.
The pros certainly outweigh the cons, but it is will become a challenge if Toyota manages to outbid Ford in these areas.