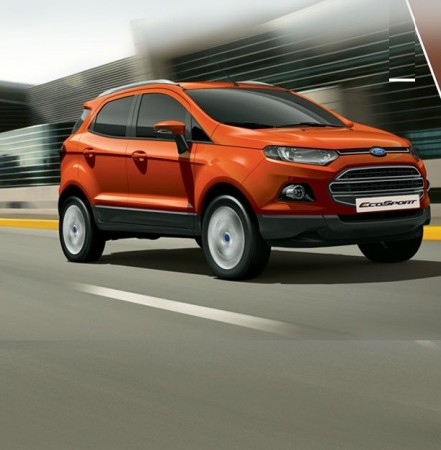 EcoSport SUV was certainly a game changer of the US Auto Major Ford in India. Even though the Ford EcoSport is just a year old in the domestic market, latest reports reveal that the much acclaimed EcoSport SUV is getting ready for a makeover in the country.
A report by Economic Times revealed that Ford EcoSport facelift will hit the market in 2016. The report also said that the Indian arm of Ford is likely to be robbed of an opportunity to export the EcoSport facelift to the US market. The Ford India was reportedly responsible to produce 55,000-70,000 units of EcoSport Facelift in 2016. However, as per the latest report, Ford is likely to hand over the responsibility to the company's Thai facility.
The report also added that cutting the supply to the US would help Indian unit of Ford to meet the high demands for the SUV in the country. The EcoSport has been riding high in India since its launch and the scaling demand had also forced the company to suspend bookings in the country. The company has resumed the booking of EcSport in the domestic market earlier this month.
For the year 2014, Ford is planning to manufacture 1.6 lakh cars from its Chennai facility, of which as many as 1.19 lakh units will be EcoSport. Launched in June 2013, the EcoSport comes with 1.5L petrol, 1.5L diesel and the 1.0L EcoBoost engine under the hood. The 1.5L petrol engine gives 112 PS power and 140 Nm torque. The revolutionary EcoBoost EcoSport engine churns out a power of 125 PS and 170 Nm torque, along with a mileage of 18.9 kmpl.
The diesel variant of EcoSport is the most fuel efficient among all models, delivering a mileage of 22.7 kmpl. Recently, the company has started offering EcoSport with the LED Daytime Running Lights. There are also reports that the Ford is considering sunroof for EcoSport in India.