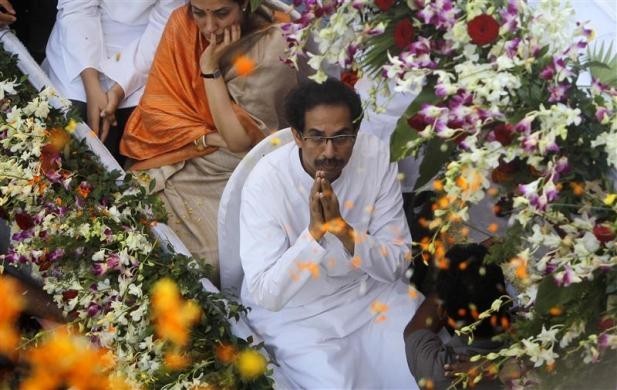 Despite the increasing national outrage over the incident wherein Shiv Sena MP Rajan Vichare force-fed a chapatti to a caterer at the new Maharashtra Sadan in Delhi, not knowing that he was fasting for Ramzan, the Maharashtra party has defended its action and accused other parties for communalising the issue.
In an editorial in the party mouthpiece Saamna, Shiv Sena has stated its MPs were only complaining about the poor management at the Sadan, and that the issue was being politicised and given "a communal colour for political mileage".
The editorial focused more on the management at the Sadan, instead of the derogatory action of its MP who force-fed the Muslim worker.
"Such a huge amount of money was spent in building the Maharashtra Sadan, but there is nothing Marathi about it," it read.
The editorial went on to say that Maharashtra Chief Minister Prithviraj Chavan should also be "force-fed" the food made at the Sadan. Showing little regret for the incident that hurt religious sentiments and sparked anger country-wide, the party instead took to hardballing.
"What is wrong if the chapati is taken to the contractor's mouth and he was asked to eat it. It was not written on his face that he was a Muslim. It was just a coincidence. The contractor serves such chapatis that are difficult to break. How is one supposed to eat such food?" it said.
The outrageous incident occurred last week when 11 Shiv Sena MPs allegedly forced a Muslim caterer to eat a piece of chapatti and in the process broke his Ramzan roza - a ritual fast that the Muslim community observes this month.
But the party defended its MP, saying that he was not aware of the religion of the caterer, adding that "it was just a coincidence". Vichare later said he found out about the caterer's religion through news reports and regretted it.
While the Oppostion has been putting pressure on the government to take action against the MPs, Shiv Sena has stayed away form any kind of apology.
"Shiv Sena respects all religions, but will not tolerate if anyone tries to flaunt his religious affiliation for intimidation. One should keep his religion in his heart and in his house. But if someone wears it on sleeve and tries to malign Shiv Sena by playing politics over it, we will not tolerate it," the party said in the editorial.