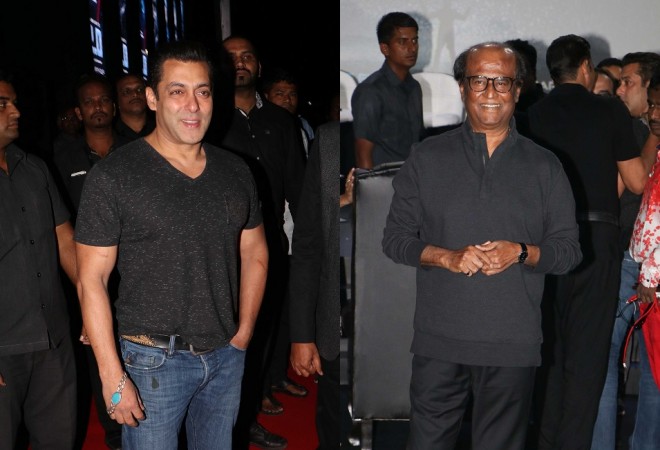 Rajinikanth is at the 14th place in the Forbes Celebrity India 100 list for the year 2018. The list is topped by Salman Khan, who has occupied the numero uno position for the third time in a row. He is followed by Virat Kohli, Akshay Kumar, Deepika Padukone and Mahendra Singh Dhoni.
As per the report, Rajinikanth's income for 2018 stands at Rs 50 crore. Apart from him, eight other actors from Kollywood - Vijay (earnings: Rs 30.33 crore ), Vikram (earnings: Rs 26 crore), Suriya (Rs 23.67 crore), Vijay Sethupathi (Rs 23.67 crore), Dhanush (Rs 17.25 crore), Nayanthara (earnings: Rs 15.17 crore) and Kamal Haasan (earnings: Rs: 14.2 crore) - are in the top 100 list.
AR Rahman is ranked at 11th place as he earned Rs 66.75 crore in 2018. Apart from the aforementioned names, many celebrities from South Indian film industry have been featured in the list.
Pawan Kalyan, Junior NTR, Mahesh Babu, Nagarjuna, Allu Arjun, Ram Charan, Vijay Deverakonda, Mammootty and Taapsee Pannu are celebrities from South Indian film industry named in the Forbes Celebrity 100 list. It has to be noted that no celebrity from Kannada film industry has found a place.
Forbes has taken the estimated earnings of the celebs and their media visibility. Below, we bring you the complete list:
| | | |
| --- | --- | --- |
| Ranking | Names | Earning in Crores |
| 1 | Salman Khan | 253.25 |
| 2 | Virat Kohli | 228.09 |
| 3 | Akshay Kumar | 185 |
| 4 | Deepika Padukone | 112.8 |
| 5 | Mahendra Singh Dhoni | 101.77 |
| 6 | Aamir Khan | 97.5 |
| 7 | Amitabh Bachchan | 96.17 |
| 8 | Ranveer Singh | 84.67 |
| 9 | Sachin Tendulkar | 80 |
| 10 | Ajay Devgn | 74.5 |
| 11 | AR Rahman | 66.75 |
| 12 | Alia Bhatt | 58.83 |
| 13 | Shah Rukh Khan | 56 |
| 14 | Rajinikanth | 50 |
| 15 | Varun Dhawan | 49.58 |
| 16 | Anushka Sharma | 45.83 |
| 17 | Ranbir Kapoor | 44.5 |
| 18 | Arijit Singh | 43.32 |
| 19 | Sanjay Dutt | 37.85 |
| 20 | PV Sindhu | 36.5 |
| 21 | Katrina Kaif | 33.67 |
| 22 | Shankar-Ehsaan-Loy | 32.46 |
| 23 | Rohit Sharma | 31.49 |
| 24 | Pawan Kalyan | 31.33 |
| 25 | Kareena Kapoor Khan | 31 |
| 26 | Vijay | 30.33 |
| 27 | Hardik Pandya | 28.46 |
| 28 | Junior NTR | 28 |
| 29 | Vikram | 26 |
| 30 | Karan Johar | 25.9 |
| 31 | Amit Trivedi | 25.28 |
| 32 | Sanjeev Kapoor | 24.5 |
| 33 | Mahesh Babu | 24.33 |
| 34 | Suriya | 23.67 |
| 35 | Vijay Sethupathi | 23.67 |
| 36 | Nagarjuna | 22.25 |
| 37 | Sidharth Malhotra | 21.67 |
| 38 | Nucleya | 21.63 |
| 39 | Kortala Siva | 20 |
| 40 | Jacqueline Fernandez | 19.95 |
| 41 | Hrithik Roshan | 19.56 |
| 42 | John Abraham | 19.3 |
| 43 | Vishal-Shekhar | 19.04 |
| 44 | Ravichandran Ashwin | 18.9 |
| 45 | Diljit Dosanjh | 18.5 |
| 46 | Sonu Nigam | 18.46 |
| 47 | Rajkumar Hirani | 18.33 |
| 47 | Sanjay Leela Bhansali | 18.33 |
| 49 | Priyanka Chopra | 18 |
| 49 | Mammootty | 18 |
| 51 | Mika Singh | 17.4 |
| 52 | Bhuvneshwar Kumar | 17.26 |
| 53 | Dhanush | 17.25 |
| 54 | Shahid Kapoor | 17.17 |
| 55 | Suresh Raina | 16.96 |
| 56 | Aishwarya Rai Bachchan | 16.83 |
| 57 | Irrfan Khan | 16.67 |
| 58 | Saina Nehwal | 16.54 |
| 59 | KL Rahul | 16.48 |
| 60 | Jasprit Bumrah | 16.42 |
| 61 | Salim-Sulaiman | 16.32 |
| 62 | Shikhar Dhawan | 16.26 |
| 63 | Badshah | 15.94 |
| 64 | Allu Arjun | 15.67 |
| 65 | Anil Kapoor | 15.5 |
| 65 | Remo D'Souza | 15.5 |
| 67 | Taapsee Pannu | 15.48 |
| 68 | Ravindra Jadeja | 15.39 |
| 69 | Nayanthara | 15.17 |
| 70 | Shraddha Kapoor | 15.15 |
| 71 | Kamal Haasan | 14.2 |
| 72 | Ram Charan | 14 |
| 72 | Vijay Deverakonda | 14 |
| 74 | Bharti Singh | 13.95 |
| 75 | Tiger Shroff | 13.5 |
| 76 | Sonam Kapoor Ahuja | 13.23 |
| 77 | Manish Pandey | 13.08 |
| 78 | Ajinkya Rahane | 12.02 |
| 79 | Rohit Shetty | 12 |
| 79 | Hari | 12 |
| 81 | Anirban Lahiri | 11.99 |
| 82 | Sunil Grover | 11.81 |
| 83 | Parineeti Chopra | 11.35 |
| 84 | Karan Kundra | 11.01 |
| 85 | Madhuri Dixit Nene | 10.98 |
| 86 | Krushna Abhishek | 10.97 |
| 87 | Srikanth Kidambi | 10.5 |
| 88 | Saif Ali Khan | 10.25 |
| 89 | Mithun Chakraborty | 9.15 |
| 90 | Chetan Bhagat | 8.75 |
| 91 | Ram Kapoor | 8.67 |
| 92 | Ali Asgar | 8.2 |
| 93 | R Balki | 8 |
| 94 | Divyanka Tripathi Dahiya | 7.8 |
| 95 | Amish Tripathi | 6.5 |
| 96 | Vijender Singh | 6.4 |
| 97 | All India Bakchod | 5 |
| 98 | Shubhankar Sharma | 4.5 |
| 99 | Rohan Bopanna | 3.27 |
| 100 | Vir Das | 2.9 |