This year, a record number of women have entered the global billionaire community and Forbes released the names of 172 women who have made it io 28th annual billionaires list on Monday.
Facebook COO, Sheryl Sandberg, 44, the first woman to serve on the social networking giant's board, is one among the 10 percent of women who have entered the super rich club.
Sandberg's fortune saw a sudden increase last year after she was hired by Facebook and her more than 12 million shares in the company jumped 130 percent last year, according to the reports.
Sandberg, who is worth approximately $1.05 billion, also gained popularity with "Lean In," a book advocating women to put more energy into their careers, and how to succeed in the male-dominated corporate sector.
Sandberg is one among the 32 self-made billionaires on the list, which include Sara Blakely, owner of Spanx, an undergarment company, Tory Burch, fashion designer, and Oprah Winfrey, media mogul and talk show host.
Interestingly, only one woman, Meg Whitman, CEO of Hewlett Packard, accomplished the task of increasing her fortunes as a hired hand, according to Forbes.
The others inherited their fortune from either parents or husbands.
Newbies on the list include Folorunsho Alakija, who became Nigeria's first female billionaire after finding success with her oil business. Today, the 63-year-old is worth $2.5 billion.
"My entry into this oil business was God's own way of leading me down a particular path," Alakija said, according to Forbes.
English businesswoman Denise Coates, 46, who started the online betting firm Bet365, is worth $1.6billion, and her fortune comes from her stake in the company. Coates is known for her love to stay under the radar even though the company, of which she is a joint CEO with her brother John, has been flourishing over the years.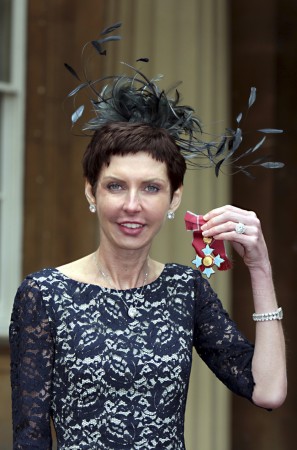 "I really don't enjoy the attention," Coates said in 2012 during an interview with The Guardian. "The public side does not come naturally to me. I'm not saying I'm a shrinking violet. I'm not. I've been bossy all my life. It's just I very much enjoy actually running the business."
Meanwhile, Estee Lauder's grand daughters - Jane Lauder (aged 41, worth 1.15 billion) and Aerin Lauder Zinterhofer (aged 44, worth $1.1 billion) are also new additions to the list. A transfer of shares in the cosmetic empire helped them gain an entrance into the super-rich club.
The duo has been working in the company which their grandmother launched in 1946 since their college days. Zinterhofer is the image and style director at her family's conglomerate and in April, Jane will head Clinique, a skin-care line, under the Estée Lauder umbrella, Forbes reported.