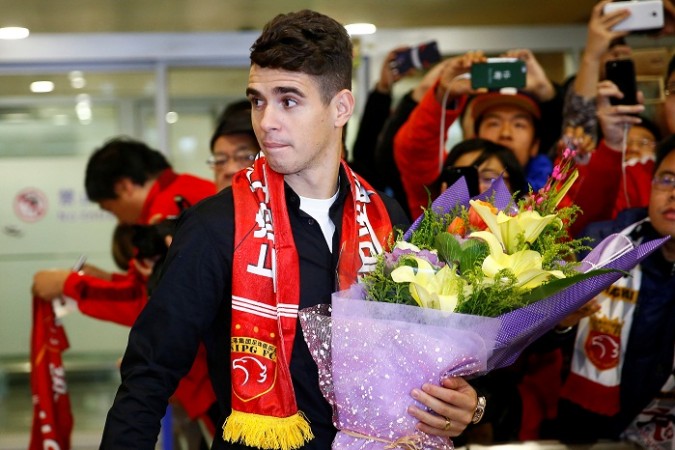 The Chinese government is set to put restrictions on the spending of Chinese football teams after Shanghai SIPG spent £60 million to bring Brazilian sensation Oscar to their club.
Along with that Shanghai Shenhua spent around £40 million to bring former Manchester United and Manchester City striker Carlos Tevez to China with a reported salary of £310,000 a week. A spokesperson for China's General Administration of Sport said clubs in the country were "burning money."
Also read: Top transfers from the Chinese Super League
There has to be action against "irrational investment" and the government will "regulate and restrain high-priced signings and make reasonable restrictions on players' high incomes," a state General Administration of Sport spokesman warned.
In their most recent attempt to bring in more footballing stars to China, an unnamed Chinese team reportedly offered Cristiano Ronaldo an annual salary of £85 million and were ready to pay Real Madrid £250 million for him.
A lot of top European managers including Arsene Wenger and Anotino Conte have expressed their concern about top players being lured to the riches of the Chinese Super League for a better pay day than play with the best players in the best football leagues.
"The Chinese market is a danger for all teams in the world. Not only for Chelsea, but all teams in the world," Daily Telegraph quoted Chelsea manager Antonio Conte as saying.
China's national team is one of the most underperforming teams in world football and plans are being made across the country to increase grassroots development by introducing football in the national school curriculum. This major reform came about in Chinese football after Xi Jinping, a keen football fan took over as president of the nation in 2013 with his mission to improve China's position in world football.
Officials from the Chinese sports administration stated that the government would set the upper limit" for players' transfer fees and wages and would also consider measures such as taking fees from clubs that spend excessively to support youth development programs.
To further control the spending on foreign players, the Chinese Football Association stated that it will lower the number of oversea players in domestic teams from five to four so that they can also promote local talent.
John Mikel Obi and Axel Witsel were the latest big names from Europe to make a move to China, with the latter set to earn €20 million a year.