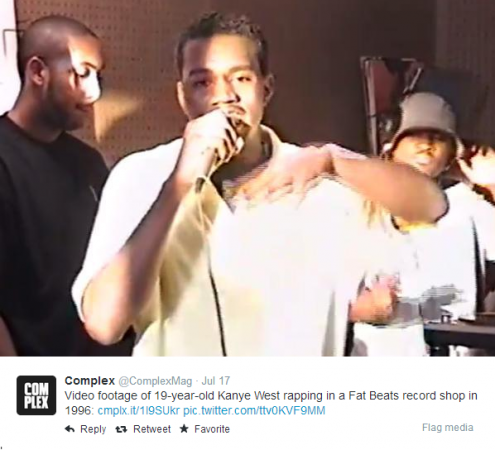 It's hard to imagine Kanye West as anything but the cocky rapper that we know him to be. An impeccable fashion sense, a voluptuous Kim Kardashian by his side, an adorable North West who has been in news since she was conceived and back-to-back hits which does not fail to bring in the Ka-ching, Kanye is the epitome of success in LA.
But there was a time, a long time back, when he was just a teenager trying to make a name among millions of rappers, who were all trying to get noticed. Fortunately for the fans, Complex.com unearthed an unseen clip of a 19-year-old West rapping in 1996, to celebrate "throw back thrusday" or #tbt.
Although urban legends had claimed that the Chicago native was a ferocious MC when he was a youngster, there have been no evidences of him spitting rhymes on the microphone; until now. The video, posted by Jukin Video and DJ Eclipse on the latter's YouTube channel, was filmed at Fat Beats' second New York location in August 1996.
Five years before Kanye impressed hip-hop fans with his production on Jay Z's 2001 single "Izzo (H.O.V.A)" and eight before he released his debut album "The College Dropout", Yeezy had flown across the country from Chicago to New York City for this performance and showed off his ability to drop the beat; and how!
In the video, DJ Eclipse mentions how he had forgotten about the encounter.
"What took me by surprise was the appearance of this 19 year old kid who at that time nobody knew. Now I've had this person as a guest on my radio show years later, but it's pretty crazy to see this footage in '96 and think 'damn, this dude was in my house then?' and not even know. More to come..."
Needless to say, fans were more than excited to see this vintage clip.
Holy goodness. Footage of @KanyeWest rapping in 1996. It brings tears to our eyes to see how much he's grown... http://t.co/Ap2FlK6aTR

— Groupie Magazine (@GroupieMagazine) July 17, 2014
Now known for his daring fashion statements, the 1996 version of Yeezy is slightly less stylish, rocking an oversized, pale yellow polo shirt and short curly hair. Looks and accomplishments aside, it is evident that Kanye still had the chutzpah and passion to succeed from the early days.
For 90 seconds, the rapper talks about his technique, Alanis Morissette, living in Chicago and how he's from the future cribbing his grandchildren's style, among other topics.
"My style is too cold / Always forever like Luther / But it ain't original because I stole it from the future," he rapped years before his success.
Even back then, he felt highly of himself. "Kanye 9-6 y'all / The divine one / The fine one / Whatever, the dime one," he raps before closing out his set.
Back in 7 January, Chicago rapper Cap 1 had also shared a video of himself rhyming with a then-unknown 21-year-old Kanye in 1998, to drum up interest in his mixtape "Caviar Dreams". In it, he raps in the Yeezy style we're accustomed to today, telling other rappers to "Keep the Jeep, Keep the receipt/ Keep the game, as long as I keep the fame and keep my name: Kanye to the uh, West."