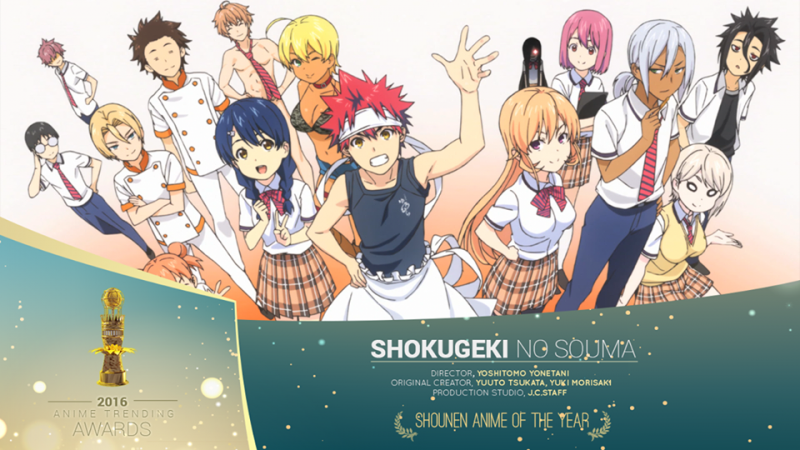 It seems that Yukihira Soma, the protagonist of culinary-based anime series "Shokugeki no Soma" (Food Wars in English), will be stronger and better than he ever was as his culinary skills are about to improve significantly.
The latest news regarding "Food Wars" Season 2 plot states that Soma will be tackling Skewer RS member Tetsuji Kabutoyama in a fierce Shokugeki Battle.
After being defeated in a grand kitchen battle in Season 1 finale, it seems that Soma has been working hard to hone his culinary skills, and the results have been fruitful.
After his defeat, Soma moved to Europe for pursuing his dream of becoming the greatest chef of the world and to participate in a Stagiaire event.
Even though there have been no official confirmation regarding the plot of the second season of "Food Wars," several reports suggest that the story will emphasise the events of Stagiaire Arc from the manga version.
Youth Health Magazine had reported that the Stagiaire event will be held by the Totsuki Culinary Academy just after 43rd annual Totsuki Autumn Election tournament that ended in Season 1 finale.
In the manga counterpart of "Food Wars," 504 students from 92nd Generation joined the event. However, only 294 of them succeeded to pass the challenges, including Soma, who, along with Polar Star Dormitory members, finished the assignments and learnt about several European and French cooking techniques.
According to "Shokugeki no Sama" Wikia, once Soma returns to Polar Star Dormitory, he finds with a shock that he has received several Shokugeki challenges including the one from Tetsuji. Soma decides to accept all the challenges and compete against Tetsuji. The challenge is supervised by five anonymous judges where Soma defeats Tetsuji and two unnamed students.
Season 1 of "Food Wars" closely follows the manga version and was praised by fans and critics. Hence, to make sure that the popularity of the anime remains intact, it would be better if the creators of the anime series stick to the original manga storyline.
"Food Wars" Season 2 is all set to return in the second half of this year, though there has been no official release date of the series announced either by the creators or the production studio yet.