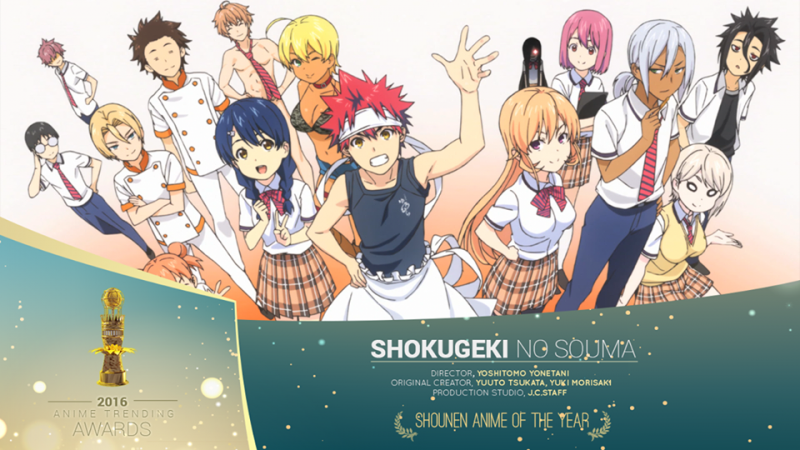 The upcoming episode of Japanese anime TV series "Food Wars! Shokugeki no Soma," also known as "Food Wars! Shokugeki no Soma: The Second Plate" will reportedly have a three-way battle in the Shokugeki tournament. The episode has been titled "Battle of Seasonality."
To watch what happens in the next Shokugeki battle, CLICK HERE.
In the last episode titled "Beasts Devouring Each Other," Ryo had battled with Hayama and the match was declared a tie. Since Soma is also in the finals now, there is a possibility that the fans will get to see the three of them battling against each other in the upcoming episode.
The fans are also looking forward to watch the series exploring the events of Stagaire Arc, which is one of the most iconic story arcs in the manga counterpart and consists of some of the most thrilling Shokugeki battles between Soma and other students of the school.
In the previous episode, Ryo had a face-off with Hayama and though initially Hayama was in the lead, Ryo finished his recipe with such a unique taste that the judges had to declare a tie between him and Hayama. It came as a surprise to both the audience and the judges as Ryo's performance was unexpected. Besides, Hayama was also taken aback when the results were announced.
The fans are also looking forward to the finals as unlike the previous battles, the final will include judges analysing three dishes by each candidate to come up with a result. Hence, it's not only the contestants, but also the judges who will have to be careful about the final tournament.
Meanwhile, Yibada has stated that instead of 24 episodes, Season 2 of "Food Wars! Shokugeki no Soma" will consist of only 13 episodes as the show-runners are looking forward to come out with more seasons and hence, the story-arc has been shortened.