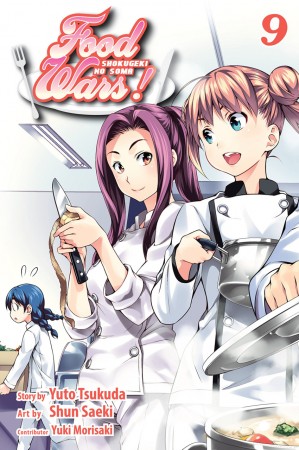 The first season of "Shokugeki no Soma," also known as "Food Wars" in English, concluded with a surprising note and it seems that the story will be soon continued in Season 2 of the series that is expected to air this year.
At the end of Season 1, Yukihira Soma, the protagonist of the series, was compelled to join a culinary school in Europe leaving his friends and old school behind.
In the first season, a grand kitchen battle between Soma and his rival, Akria Hayama, took place and while it was a difficult decision for the judges to declare the winner, Hayama's Naan Pot Pie Curry won against Soma's Curry Risotto Omurice.
The result left Soma devastated as he had never expected to lose it from Hayama. However, he accepted his defeat calmly and decided to move to Europe with his father so that he could learn new cooking skills and hone his talent.
However, even though Soma was defeated, the first season of "Food Wars" ended on a positive note as Soma's friends decided to celebrate anyway despite not winning the competition and they partied all night.
As reported by When-Will.net, Season 2 will be released sometime in the summer of 2016. However, there has been no such official confirmation either from the creator of the manga or the production house.
"Food Wars: Shokugeki no Soma" follows the story of a young boy named Yakihira Soma, who wants to become a celebrity chef in his father's restaurant.
However, things take an unexpected turn as after graduating from middle school, Soma is compelled to follow his father to Europe, where he wants to open a new restaurant shutting down his older one.
Initially saddened for leaving his friends and life behind, Soma eventually accepts his fate and decides to give his best. He gets enrolled in an elite culinary school where he must put his best efforts to be able to graduate from the school.
Season 2 of "Food Wars" will explore the adventures of Soma in Europe and his journey to become one of the greatest chefs of all times. Fans are eagerly waiting to see him in next season and it seems they won't have to wait for long.