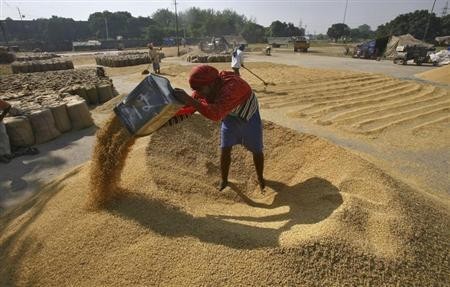 The ruling Congress party has decided to take up the Food Security Bill, which will provide highly subsidised rates of foodgrains to over 60 percent of the Indian population, in Parliament on Thursday.
Just few days are left till the Monsoon session comes to an end on 30 August and more than 40 bills remain pending in Parliament.
Among them is the ₹1.25 lakh-crore scheme of supplying highly subsidised foodgrains to the population.
On Tuesday, when Congress had decided to push the Food Bill in both houses, the Opposition cornered Prime Minister Manmohan Singh over the case of missing files relating to the coal scam. The Bharatiya Janata Party headed by Leader of Opposition Sushma Swaraj demanded the prime minister's statement over the issue of missing files as he held the coal portfolio when the alleged scam took place.
The Parliament was disrupted and both houses were adjourned a couple of times over Opposition's demand for an answer to the missing of 13 crucial files, which throw light over the irregularities in coal allocation during 1993-2004.
"The government had yesterday assured to make a reply in Rajya Sabha. The missing files raise a serious question on efforts to save someone. Since the Prime Minister held the coal portfolio, we expect a serious reply from the Prime Minister," BJP Deputy Leader in Rajya Sabha Ravi Shankar Prasad told PTI.
Moreover, the Congress high command Sonia Gandhi was to make a special speech at Parliament to push the Food Security Bill on the birth anniversary of her late husband and former Prime Minister Rajiv Gandhi. The scheme was unveiled in Delhi and Haryana on Tuesday under the Food Bill ordinance, which was passed on 5 July.
On Tuesday morning, Sonia, Manmohan and Parliamentary Affairs Minister Kamal Nath held a meeting to finalise the Food Bill before the Parliament session began.
But the Opposition, even external allies of the Congress like Samajwadi Party and Bahujan Samaj Party, have reiterated their demand to amend the bill before it is passed in any of the houses.
"If it is an amendment which is workable, the government will move that amendment," Kamal Nath said in reply to their demand on Monday.
Both the Opposition and allies of the Congress, had extended their support for the Food Bill until Gujarat Chief Minister Narendra Modi wrote a letter to the PM, on the shortcomings of the bill.