A Special CBI court will on Friday announce the quantum of punishment that will be meted to Rashtriya Janata Dal (RJD) chief Lalu Prasad Yadav, who has been found guilty in the fodder scam case.
Here are 10 things to know about the fodder scam:
1) On Friday Lalu's advocate had filed a plea before the Special CBI Court demanding minimum punishment to the RJD Chief on health groundsand. Lalu and 14 others were convicted in the Deoghar Treasury fodder scam case of 1990's on December 23, 2017. They were pronounced guilty of engaging in fraudulent transactions worth Rs 89 lakh from the Deoghar Treasury between 1991 and 1994.
2) The pronouncement for the quantum of the sentence was expected to be made on Wednesday but was postponed to Thursday due to the death of two lawyers. Later on, his sentence was further deferred to Friday because the judge decided to hear the arguments in an alphabetical order.
3) Meanwhile, special CBI court judge Shiv Pal Singh, who had ruled Lalu guilty, said on Thursday that he has been getting calls from the RJD supremo's well-wishers who were keen to know his fate and also influence the sentence.
4) However, Singh had said that he would stick to what the law requires him to do.
"Laluji, aapke shubhchintakon ke bahut se phone calls aa rahey hain, lekin nishchint rahiye, karunga wohi jo kanoon kahta hai (Laluji, a lot of your well-wishers are calling me up. But rest assured, I will do what the law says)," said Singh.
5) The CBI court had earlier acquitted six others, including former Bihar Chief Minister Jagannath Mishra
6) Since the day he was convicted, the RJD supremo, who has served jail term earlier, is lodged at the Hotwar Central Jail in Ranchi.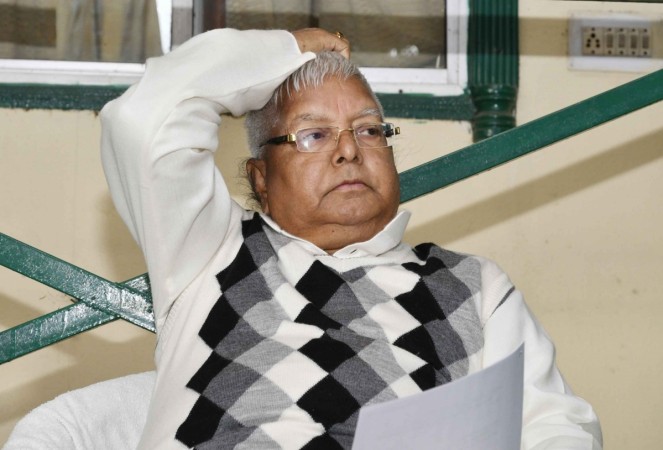 7) Lalu whose first week in prison was not that good owing to the restriction of the frequent visits by his close aides, may witness a more difficult time and get a stern sentence this time as the BJP is in power in Bihar.
8) Recent reports have claimed that the RJD chief has been lodged along with six other politicians from different parties. He has been provided with a television set and newspaper. Lalu was heard saying that "it is very cold here (the cell of the Birsa Munda jail)".
9) The special CBI court in Ranchi has also served contempt notices to senior RJD leaders Raghuvansh Prasad Singh and Shivanand Tiwari, Lalu's son Tejaswi Yadav and Congress leader Manish Tewari for criticising the December 23 conviction of the RJD chief.
10) The RJD and Congress leaders are to personally appear before the court on January 23.