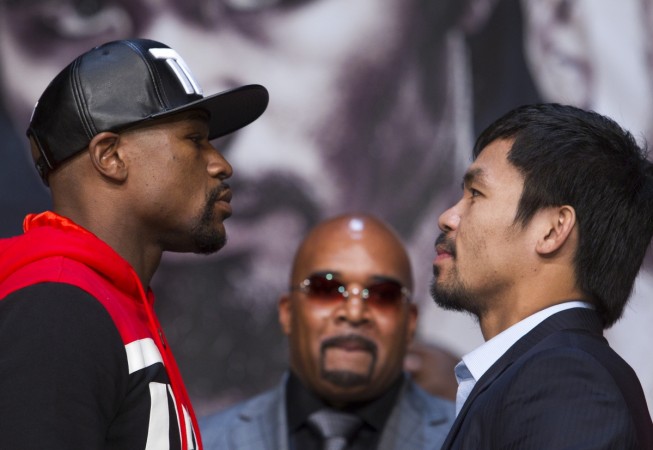 Before the best pound-for-pound boxers, Floyd Mayweather and Manny Pacquiao set their feet inside the ring at MGM Grand in Las Vegas on 2 May, they will meet face to face one last time for the weigh-in on Friday.
In the manner the last press conference took shape, where Mayweather was quiet, things are expected to be the same during the weigh-in as well, but one should not be surprised if the situation boils over, as it has happened with other weigh-ins in the past.
There is a huge hype that surrounds this fight, so fans are expected to turn up in great numbers. Weigh-ins in the past have never attracted a large number of fans, but we are talking about the fight of the century and fans are eager to be a part of it, no matter what.
"The weigh-in is always the grand finale of fight week activities," The Independent quoted Leonard Ellerbe, CEO of Mayweather Promotions as saying.
"And with the massive interest in this fight, the number of fans looking to attend the official weigh-in is going to be something we've never seen before. We're excited to be able to use the enthusiasm around this event to provide donations to two very deserving charities."
Fans are even ready to shell out money to be a part of the weigh-in event -- the proceeds of which will go to charity. With so much of money in the offering for the bout, one feels good to know that it is being used for a good cause.
"The charge of $10 for the weigh-in will benefit two great charities. All proceeds will go right to them. This is a win-win situation for all," said Top Rank chairman Bob Arum, Pacquiao's promoter.
But the weigh-in is just a teaser to the bout, which will take shape on Saturday night. Boxing fans around the world have been eager to watch the fight, which took around five to six years in the making.
Irrespective of the result, it is boxing fans, who would be entertained from the bout, as Pacquiao and Mayweather are the two of the best boxers amongst the current crop of pugilists.
Where to Watch Live
Date and Time – 1 May, 6pm ET (11 pm BST and 3:30am IST)
Live on TV – HBO (US) and Sky Sports (UK)
There is no Live coverage in India.
Venue –MGM Grand