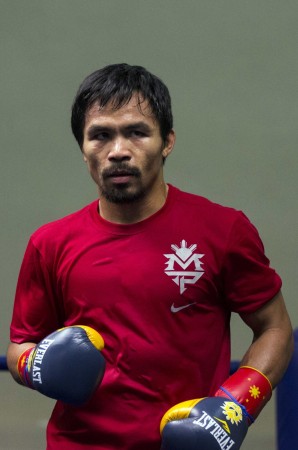 With several experts and boxers picking Floyd Mayweather as favourite to clinch the fight of the century against Manny Pacquiao, it was not a huge surprise that the American defeated the Filipino in the fight of the century.
Despite a flurry of punches, Pacquiao finished second best as Mayweather proved why he has been regarded as a defensive genius as he put up a defensive master class to take his winning streak to 48 bouts. Hence, his unbeaten streak still remains intact. Will anybody ever defeat the American?
But, if we go by the words of Manny Pacquiao, who was an underdog for the fight believed that he had won the fight. "I thought I won the fight," Pacquiao said after the bout. "He didn't do nothing."
The Filipino was rather surprised to finish second in the fight. "I was very surprised with the scores. I thought I hit him more than he hit me," added Pacquiao.
Mayweather defeated Pacquiao with the three appointed judges awarding 118-110, 116-112, 116-112 in favour of "Money".
The bout was a very close one as predicted and it could have gone either way. The Filipino started the bout on the right note with a flurry of punches, but the American started coming back into the game in the latter half of the game, which proved to be a good strategy.
The Filipino gradually slowed down as Money made the Filipino go around in circles inside the ring to land that elusive punch, which might have tired the Filipino. But, Pacquiao should have been aware about the strategies that the American would adopt considering Mayweather's safe style of boxing, which has helped him remain unbeaten.
Even when Pacquiao had an upper hand, the defensive genius act of Mayweather prevented himself being hit badly, despite a flurry of punches.
But, that was a rather smart ploy from the American as taking the Filipino at the centre of the ring could have proved costly.
Mayweather considered himself to be a smart fighter, "Now I see why Manny is where he is. I was a smart fighter. I kept it on the outside. I out-boxed him," said the American.
Mayweather is expected to fight one last time in September before deciding to hang his boots. Now, the world awaits his last opponent. Who will it be?
"My last fight is in September. I'll do that and I will hang it up," added Mayweather.