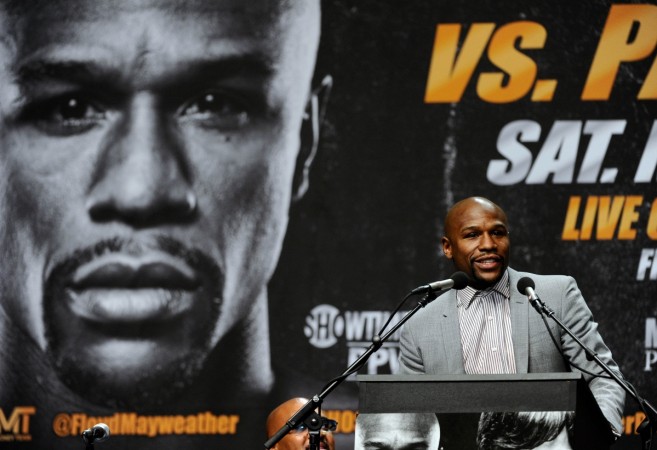 Amir Khan has suffered a major blow. The British boxer has always wanted to fight Floyd Mayweather. Though the fight between the two might have come close a few times, Amir Khan's desire to fight Mayweather won't be fulfilled, as the pound-for-pound king has outlined two other boxers and will fight one of them.
After his victory against Chris Algieri, Amir Khan was said to be closing in on a match against boxing legend Mayweather.
Names such as Oscar de La Hoya, Gennady Gennadyevich Golovkin, Kell Brook and Keith Thurman were also rumoured to be Mayweather's potential opponents in September. Mayweather had ruled out a re-match against Miguel Cotto.
Recently, Golovkin, who is confident of defeating Mayweather, also stated that it was his dream to fight against Mayweather.
After Mayweather defeated Manny Pacquaio in the fight- of-the-century a few months ago, Mayweather stated that he will hang his gloves after one last fight in September. Fans and critics began to think of some potential match-ups, but Mayweather has put all of them to rest, as he has decided to fight either Karim Mayfield or Andre Berto.
"There are two names out there that I'm going to fight. I'm either going to fight Karim Mayfield or Andre Berto in September," as posted in YouTube channel ThaBoxingVoice.
But one cannot just believe that Mayweather has chosen to fight lesser known boxers. He was even asked if he was serious about it, to which he replied, "When (Manny) Pacquiao chose the last guy before me did you say that about him?"
Both Karim Mayfield and Andre Berto must be excited about the bout.
Karim Mayfield is a welterweight boxer and has fought 22 bouts, winning 19, losing two and one resulting in a tie. Mayfield did not have a great year in 2014 as he lost two out of his three bouts.
Andre Berto has spent more time inside the ring, as he has 33 bouts under his belt and has lost only thrice. He last fought against Josesito Lopez in March 2015, when he delivered a knock out blow to his opponent.
Irrespective of who fights Mayweather, the pound-for-pound champion will make sure he walks off from the sport undefeated. He has a 48-0 win-loss record in his professional career.