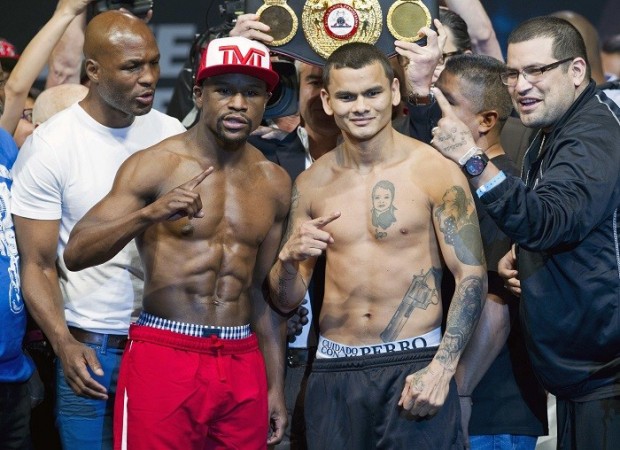 Floyd Mayweather Jr. will look to keep his unbeaten record intact when the American takes on Marcos Maidana in Las Vegas on Saturday.
Where to Watch Live
The fight coverage begins at 8 pm ET (5.30 am IST, 1 am BST) with the undercard matches, including Amir Khan vs Luis Collazo, to kick things off before the big fight between Mayweather and Maidana. Showtime will provide the Pay Per View coverage in the US, with the live streaming option HERE or HERE. Catch the action in the UK HERE or HERE, while Australia viewers can live stream the action HERE.
Mayweather will put his WBC welterweight title on the line, while Maidana will put up his WBA belt, which he won with a victory over Adrien Broner in December.
There is obviously one big favourite going into the fight, with many believing the only real question on the night will be when, rather than if, Mayweather will win the 46th fight of his unbeaten career.
"My job is to go out there and do what I do best," Mayweather said after weighing in at 146 pounds. "I perform better under pressure. I look forward to going out there and being Floyd Mayweather and taking my time, keeping my composure and doing what I do best.
"Pressure. I love it. I love it. The main thing is, as long as God loves me, I'm OK."
Maidana will look to create one of the biggest upsets in some time with a victory over Mayweather, and the Argentine, who has a career record of 35-3 with 31 Kos, is confident of making history by becoming the first boxer to stop the money-spinning American.
"I'm calm and relaxed and ready for the fight," said Maidana, who weighed in at 146.5 pounds. "Because of my style [I'm confident I can cause an upset]. I know Mayweather's great and all that, but since he's so big, that's why I want to beat him."
A glove controversy broke out after the weigh-in on Friday, with Mayweather and his camp objecting to the custom-made gloves that Maidana was planning to use. The chairman of the Nevada Athletic Commission, Francisco Aguilar, ruled out one pair of gloves, but gave the go-ahead for another one, much to Mayweather's chagrin.
The fight was momentarily in jeopardy, but with too much money at stake, there was never really any doubt about the title bout not going forward.
"The camps are discussing the gloves," Golden Boy Promotions CEO Richard Schaefer said. "It is not a commission issue. The camps are still talking about it now, but everything will be worked out. Both guys want to fight. I'm not concerned about this issue."