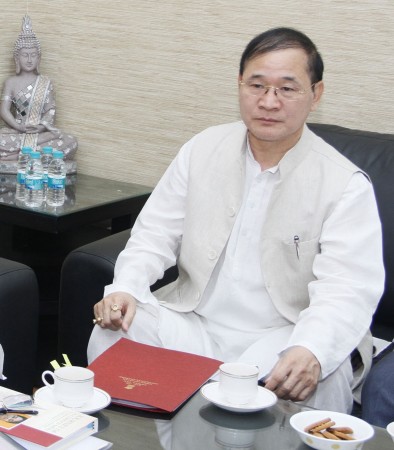 Nabam Tuki, who was restored as the chief minister of Arunachal Pradesh by the Supreme Court on Tuesday, may have to pass another hurdle as there are indications that a floor test will be conducted within a week.
The Bharatiya Janata Party (BJP) was confident that Tuki would lose the floor test and the government led by Kalikho Pul will be back.
"I have the numbers. Even if the Congress government is restored, there has to be a floor test. They have 15 MLAs, we have 43, including 11 BJP MLAs and two Independents.I don't see any threat to my government," he was quoted as saying by the Times of India.
Pul belongs to the People's Party of Arunachal (PPA), which is backed by the BJP. He had masterminded the breakdown of the Congress government by making sure that 29 MLAs from the Tuki government defected and backed the PPA.
The Arunachal Pradesh Assembly has 60 seats, of which two are currently vacant. Of the 58 remaining seats, 30 are PPA members, Congress has 15 members, BJP has 11 and two are Independents.
Tuki has invited the rebel Congress MLAs back into the party to increase the number of members who would vote for him, if a floor test takes place.
"I'll go to the state and talk to all Congress MLAs. I appeal to my old colleagues to return to the party. Some of my Congress colleagues who defected should return," Tuki was quoted as saying by TOI.
It is also likely that the Congress party would suggest a new chief ministerial candidate to pacify the MLAs who had rebelled. Tuki has been the chief minister since November 2011.
He is likely to return to Itanagar on Thursday, following which the rallying for MLAs is set to begin.