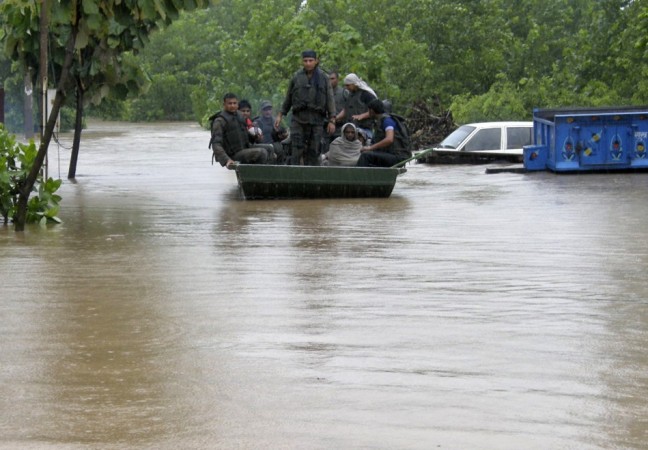 Incessant rains along India's east coast escalated as 19 people lost their lives in Odisha on Sunday, and another 42 killed in rain-related incidents in Andhra Pradesh.
The two states are facing severe floods for the second time this year. Floods are one of the most recurrent natural disasters that impact large areas of eastern coast. According to the Ministry of Home Affairs, 23 out of 35 states and Union Territories of India are vulnerable to floods.
About eight lakh hectares of agricultural land along with crops were inundated. More than 84,700 people have been evacuated from low-lying areas to safer places. Nineteen National Disaster Response Force (NDRF) teams have been working round-the-clock in various districts of AP for rescue operations.
Here are certain safety measures one could follow during a flood situation:
How to avoid a flood
Avoid building structures in a floodplain (an area adjacent to a stream).
Constructing barriers made of levees, beams and floodwalls could help stop floodwaters from entering the house.
If there is a basement in the house, sealing walls with waterproofing compounds helps in avoiding seepage.
Keeping oneself alert through radio or television for information. If the news says "flood watch", it means flooding is possible. However, if the news alert says "flood warning", it means flooding is occurring or will occur soon.
Just before a flood
Be prepared by packing items like ready-to-eat food or a small medical kit.
Do not fight with authorities if asked to leave the house.
If there is an alert for a flash flood, move immediately to higher ground.
Disconnect electrical appliances.
During a Flood
Avoid walking through moving water because even six inches (15 centimetres) of moving water could make you fall. Use a stick to check the firmness of the ground before walking in the water.
Do not drive because floodwaters could rise around the car.
Do not touch electrical equipment with wet hands or while standing in water.
After a Flood
Keep a radio handy for news updates on whether community water is safe to drink.
Avoid standing in floodwaters as it may be contaminated by oil, gasoline, or raw sewage. Water might also be electrically charged from underground or downed power lines.
Roads might have been weakened and could collapse under the weight of a car.
Stay away from downed power lines, and report them to the respective authorities.
One can return back to his/her house only when authorities indicate that it's safe.
Clean and disinfect everything that got wet as mud left from floodwater could contain sewage and chemicals.