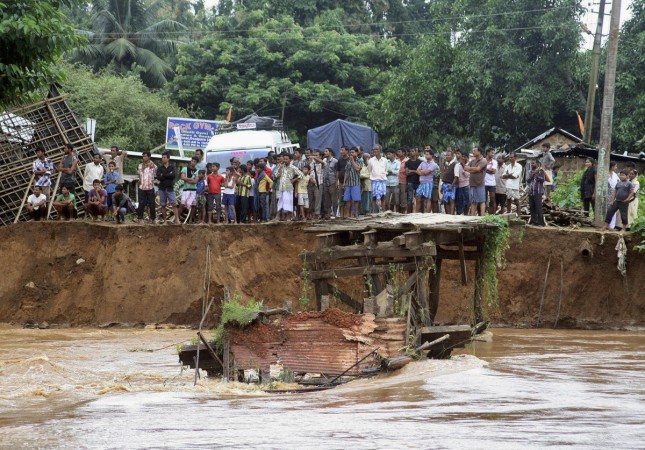 The death toll in Assam and Meghalaya flood has hit 70 and rescue teams are having a tough time reaching thousands of villagers stranded in submerged villages of the northeastern states.
Cloudbursts and flash flood have resulted in landslides and massive destruction in several parts of the two northeastern states, causing several deaths and submerging many parts of the two states.
Most of the people have either drowned or have been killed in landslides triggered by heavy downpour.
The Indian Army, the National Disaster Response Force, the State Disaster Response Force, Border Security Force and paramilitary forces are carrying out rescue and search operations across the affected areas.
However, they are reportedly facing difficulty reaching the worst affected areas including Anilnagar and Tarunnagar in Guwahati. They are trying to provide rations to the stranded villagers, The Indian Express reported.
Till now, over 10 lakh people have been displaced and they have either shifted or have been rescued to around 100 relief camps set up across 15 districts in the two states.
Several others have settled in makeshift tents on either sides of National Highway 37, connecting Guwahati, Golpara and Bengal border. They are said to be surviving on puffed rice mixed with water, and the NGOs from across the areas are providing biscuits and bread to them.
One among the several families camping on the national highway is Moinul Haq's family with six young children, NDTV reported. While those who were able to get back to their homes are worried about losing important documents and re-building their houses, which according to them will take at least three months.
Assam chief minister Tarun Gogoi submitted a report to Union home minister Rajnath Singh informing him that flood situation has improved slightly, however, condition in several areas is still "grim and critical."