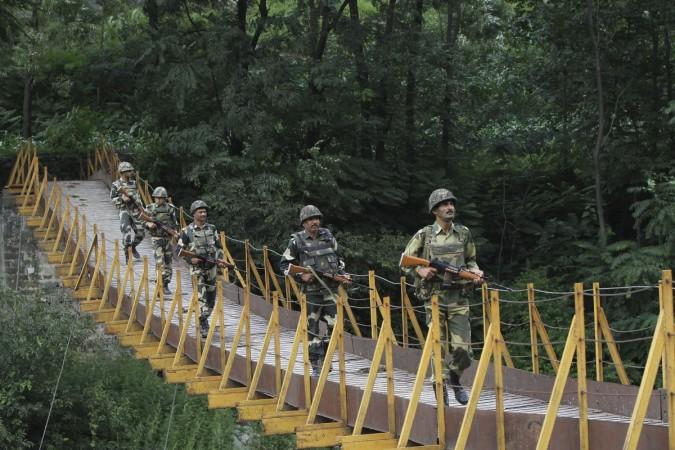 Taking adavntage of the recent floods in the Kashmir Valley reeling, hundreds of Pakistani armed militants have been attempting to infiltrate into the Indian side, with four being killed by Indian forces on Saturday.
Four ultras were killed on Saturday by the Indian Army in Jammu and Kashmir's Kupwara district along the Line of Control (LoC), while 15 others engaged in heavy firing with Indian soldiers, reports IANS.
Indian soldiers surrounded heavily armed militants near the LoC in Tangdhar sector on the intervening night of Sep 19 and Sep 20, police said.
"Following intelligence inputs, the army challenged the militants in Tangdhar sector Saturday morning," a police official told the news agency.
"The militants started firing at the soldiers triggering an encounter in which four militants were killed and their weapons were seized."
About 200 armed militants are also reportedly attempting to infiltrate into India, and a high alert has been issued along the LoC.
These reports come just days after the Indian forces engaged in heavy gunfire with terrorists and killed several of them.
"There are around 200 heavily armed terrorists across the Line of Control waiting to infiltrate into the Kashmir Valley," Lieutenant General Subrata Saha, the general officer commanding of Srinagar-based 15 Corps, told PTI.
With many BSF outposts inundated due to floods and fencing destroyed, the border has become more porous and susceptible to infiltration even as armed forces have been spent on rescue efforts in the floods. More than half of the army cantonments went under water during the floods along with tonnes of armament.
However, Saha assured that the Army's security measures were in place to check infiltration.
"Though we suffered damage in the recent floods as more than 50% of the cantonment area was inundated, we never allowed the security grid to weaken," Lt Gen Saha said.