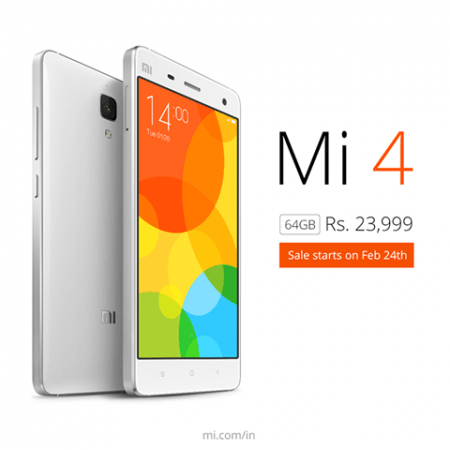 The decision to limit expandable storage option in Mi4 was widely criticized, but the company is making peace by making the 64GB variant available for Indian consumers shortly after its 16GB debut.
The first sale for the Mi4 16GB variant is set to take place tomorrow, 10 February. The company has announced the availability of Mi4 64GB variant along with its price so that consumers can make an informed choice. For many, missing out on the first chance to buy the Mi4 in the flash sale could be disappointing but those who are willing to go for the higher storage model can step back for now.
According to Mi India's Facebook page, Mi4 64GB variant is set to go on sale via Flipkart on February 24. Consumers, who are willing to shell out ₹4,000 on top of the Mi4 16GB's price, can have 4 times more storage on their device. This is a great deal considering Mi4 lacks a microSD slot hence further expansion of storage isn't possible. The only way to add more storage to their device is by upgrading to the 64GB variant.
The only shortcoming with the 64GB variant is that customers will have to wait till the end of month to make their bid for the purchase. The Mi4 64GB variant will be available for ₹23,999.
As for the 16GB Mi4 smartphone, Xiaomi has already received more than 250,000 registrations. It is going to be a tough buy for online consumers as only 20,000-30,000 units are to be made available tomorrow, which are likely to disappear in a matter of seconds (typical Xiaomi style).
Despite the storage difference, all other features in the Mi4 16GB and 64GB remain unchanged. The flagship sports a 5-inch Full HD 1080p display, 13-megapixel rear facing camera with just 0.3 second auto-focus time and a whopping 8MP front snapper. There's a 2.5GHz Qualcomm Snapdragon 801 processor serving as the powerhouse while a 3GB RAM and Adreno 330 will take care of the phone's speed and graphics, respectively. With all these high-end features, users can worry less about running short on battery as the Mi4 packs a 3,080mAh battery on the house.
The Mi4 16GB costs ₹19,999, which will be available on sale via Flipkart on Tuesday, while the 64GB variant will cost straight ₹4,000 extra for the additional storage.