Walmart-owned e-commerce giant Flipkart kicked off the year-end Big Shopping Days sale on December 6 in India.
Like the previous promotional sale campaigns, the company is offering up to 70% discount on several product categories ranging from consumers electronics, mobile phones, home appliances to fashion apparels, sports gears and other sundries.
Furthermore, HDFC card holders are entitled to get an additional 10% instant cash back provided they choose the EMI options.
If you are planning to bring home new TVs or washing machines to welcome the New Year, you are in luck. There are lots to choose on Flipkart's ongoing Big Shopping Days (BSD) sale. It will conclude on 8 December.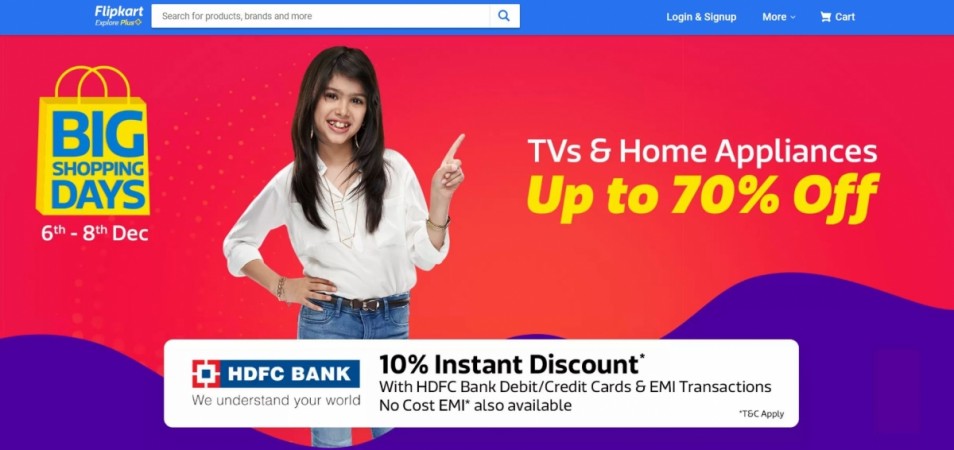 Here are handpicked biggest offers available on smart TVs, washing machines and others on Flipkart:
Smart TVs:
| | | | |
| --- | --- | --- | --- |
| Models | MRP | BSD offer | Key features |
| Xiaomi Mi 108 cm (43) Full HD Smart TV (TVSF2WYXTKAR7RAF) | Rs 25,999 | Rs 21,999 | Android TV Oreo update with Google Play Store & Chromecast built-in in 2019 |
| Xiaomi Mi 138.8 cm (55) 4K Smart TV (TVSF9D8XDECFGWPM) | Rs 54,999 | Rs 49,999 | World's Thinnest Android LED TV. The TV offers 700,000+ hours of content from 14+ Content Partners |
| Vu Iconium 109cm (43) 4K Smart TV (TVSEXYHFCBZEGGZY) | Rs 41,000 | Rs 24,999 | Built-in Box Speakers, Metal Frame Design and ADS Panel |
| Thomson B9 Pro 102cm (40) Full HD Smart TV (TVSF5YYHTYEG7NHB) | Rs 25,999 | Rs 17,499 | 10,000,000 Hours of Content in 10 Indian Languages & Cinematic Surround Sound |
| iFFALCON Certified Android 80cm (32) HD Smart TV (TVSF7HCFDCSAHZSE) | Rs 18,999 | Rs 13,499 | World's First 32'' Android TV comes with Micro Dimming, HDR 10 and Dolby Audio |
Washing machines and other home appliances:
| | | | |
| --- | --- | --- | --- |
| Models | MRP | BBD Offer | Key aspects |
| (WMNEHPCR5BJHXPRT) IFB 6 Kg Front Load Washing Machine | Rs 22,590 | Rs 18,999 | 2D Shower System for Sparkling Clothes and 4 years 100% Warranty from IFB |
| (WMNF4PB8E4SGYJNA) Midea 7 Kg Front Load Washing Machines | Rs 17,970 | Rs 13,499 | 23 Wash Programs and Antibacterial Gasket |
| (RFREH9FEEZW885PJ) LG 260 L Frost Free Double Door Refrigerator | Rs 30,690 | Rs 22,490 | Auto Smart Connect and Stabiliser-free Operation |
| (RFREWV7YYEQMUBHG) Whirlpool 292 L Frost Free Double Door Refrigerator | Rs 28,100 | Rs 24,290 | 6th SENSE DeepFreeze Technology & Freshonizer feature |
| (ACNF3A3YZWSJTHTH) Midea 1 Ton 3 Star 2018 Inverter AC | Rs Rs 37,000 | Rs 21,999 | i-Eco Energy Saving to help you save on your energy bills |
| (MRCDWYS5ATGJHVPJ) Morphy Richards 30 L Convection Microwave Oven | Rs 15,670 | Rs 8,999 | No cost EMI from just Rs 1,000/month. 3 way heating system for better cooking |
| (WAPEBPFVECBHV8N7) Livpure Pep Pro ++ 7 L RO + UV +UF Water Purifier | Rs 15,500 | Rs 8,499 | Pre-carbon Block Filter Cum Absorber & Antiscalant Cartridge |
| (WGYEE8DVZY8YQQ7W) Hindware Atlantic 3L Instant Water Geyser | Rs 3,850 | Rs 1,999 | Highly durable ABS Body with Built with superior corrosion-resistant Stainless Steel |
| (MIXEHEUGAKWWZUMH) Preethi Zodiac 750 W Juicer Mixer Grinder | Rs 8,870 | Rs 6,699 | Complimentary Masterchef Plus Jar and a 3-in-1 Insta Juicer Jar |