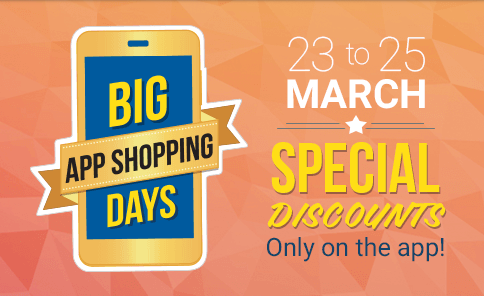 Flipkart is looking to attract mobile users towards its app by launching a three-day shopping festival with major discounts and exclusive offers. The e-commerce firm is offering attractive deals that entail generous discounts on mobiles, wearables, laptops and accessories.
To take advantage of Flipkart's Big App Shopping Days sale, users should download the app on their Android, iOS and Windows Phones. The online retailer is notifying its web users about the big sale with a fixed banner on the front page.
We have handpicked a few in case you are in for some shopping.
Mobile Phones
Moto G Second-Generation - Rs. 10,999 (Rs. 2,000 Off)
Apple iPhone 6 16GB- Rs. 46,748 (Rs. 3,000 Off)
Samsung Galaxy A3- Rs. 17,100 (Rs. 1,900 Off)
Samsung Galaxy Mega - Rs. 17,000 (Rs. 1,900 Off)
Honor 6 - Rs. 16,999 (Flat 15 percent off)
ASUS Zenfone 5 16GB - Rs. 8,4999 (Flat 15 percent off)
Sony Xperia Z3 - Rs. 36,990 (Rs. 2,550 Off)
Micromax Nitro A311- Rs. 10,340 (Rs. 1,500 Off)
Alcatel Onetouch Flash - Rs. 8,999 (Flat Rs. 1,000 Off)
Microsoft Lumia 535 - Rs. 7,749 (Rs. 700 Off)
Wearables
Motorola Moto 360 - Rs. 14,999 (Exchange Offer on old Watch, Flat Rs. 3,000 Off)
Laptops
Minimum Rs. 1,000 off on Dell, Lenovo, HP laptops
Accessories
Minimum 50 percent off on wide range of headphones via Flipkart app
Minimum 35 percent off on Sandisk Ultra Memory cards
Up to 70 percent off on car chargers
Up to 40 percent off on HP, Kingston Class 10 memory cards
Minimum 28 percent off on Bluetooth headsets
Flat 15 percent off on Inkjet printers
Minimum 40 percent off on Sandisk pen drives
Flipkart's Big App Shopping Days sale extends to a wide range of products beyond electronics. Download the app on your Android, iOS and Windows Phone devices to explore the deals.