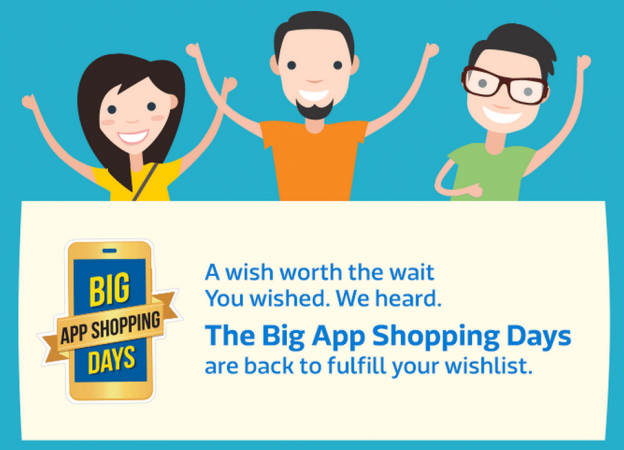 If you are looking for a new smartphone or any other electronic gadget, Flipkart's mobile app is worth checking out. From 22-24 June, Flipkart is hosting "Big App Shopping Days" where the online retailer is offering discounts on a wide range of electronic devices.
The three-day extravaganza is part of Flipkart's continued effort to encourage shoppers to shift from desktops to mobile apps. The latest Big App Shopping Days sale brings exciting deals on products such as OnePlus One, Xiaomi Mi 4i, Xiaomi Mi Band, Asus Zenfone 2, Apple iPhone 6 and Samsung Galaxy S5.
The products on sale through Flipkart app are bound to attract a lot of shoppers, given how popular they are among consumers. Interestingly, Flipkart is giving shoppers the opportunity to grab the 64GB Sandstone Black OnePlus One for just Rs 19,998. This is the same deal as Amazon, which offered the handset at the discounted price for just one day. Flipkart will continue to sell OnePlus One at the discounted price until 24 June, giving shoppers more time to place their order.
The discounts do not stop just there, as Flipkart mobile app brings host of new deals and offers on various smartphones. Below are some of the worthiest deals that we spotted while shopping on Flipkart mobile app during Big App Shopping Days sale:
Lenovo A6000 Plus: Rs 6,999 (No registrations required)
Moto E (Gen 2) 4G: Rs 6,999
Moto G (Gen 2): Rs 9,999
Micromax Canvas Nitro A311: Rs 7,999
Sony Xperia Z Ultra: Rs 13,990
Asus Zenfone 2 Series: Exchange of old smartphones for up to Rs 8,000 on 4GB RAM variant and up to Rs 5000 on 2GB RAM variant.
Xiaomi Mi 4i: Rs 12,999
Samsung Galaxy S5: Rs 22,999
Google Nexus 6: Exchange up to Rs 15,000
In addition to these tempting offers on mobile phones, Flipkart has attractive deals on tablets, televisions and other electronic gadgets on its Big App Shopping Days. If you are using SBI debit or credit cards to make a purchase, add an additional 10% discount during the sale, making your shopping worthwhile.