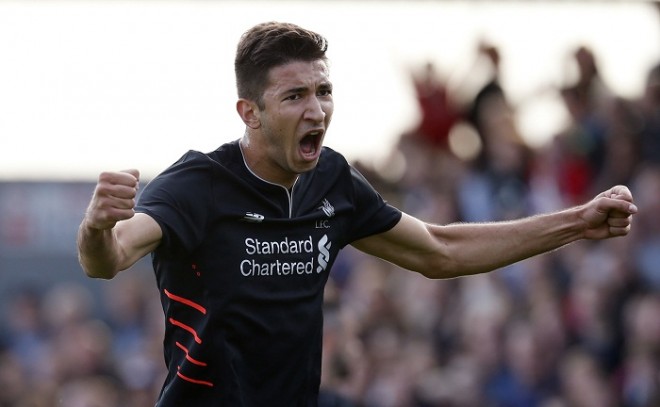 Liverpool manager Jurgen Klopp will not be going gaga after a 5-0 victory against Fleetwood in their second preseason friendly on Thursday, but the German will be pleased with new signings Sadio Mane, Mark Grujic, and several other academy youngsters, who stood out at the Highbury Stadium. The Serbian, who made his highly-anticipated debut, showed attributes of a quality player, taking on defenders with his silky skills, while was strong on the ball as well.
The youngster started as an attacking midfielder, and looked bright from the outset, earning a penalty early on, which Danny Ings failed to convert. However, Grujic was a huge threat, and started his Liverpool career with a cool finish in the 18th minute.
The youngster was at the heart of most Liverpool moves. Grujic could have well scored his second, but the Serbian struck the woodwork with a decent strike later in the first half.
This match also provided a bit of insight as to how Liverpool's central will defenders play during the season, as Dejan Lovren and Joel Matip released early balls to their forwards.
Mane, who started on the left, also looked good, and was creating nuisance with his pace, though, he did not feature in the scoresheet. However, Markovic on the right had yet another poor game.
Klopp decided to change all 11 players, who started in the first half, with the likes of Roberto Firmino, Lucas Leiva, along with a number of young guns, coming in. The 16-year-old academy star, Ben Woodburn, had a dream start, scoring in the 52nd minute, and his joy was almost multiplied a few minutes later, only to be denied by the Fleetwood's goalkeeper Alex Cairns.
With Liverpool taking a 2-0 lead, they began to play some attractive football, threatening to score more goals. Even Lucas found the back of the net in the 69th minute, and Firmino slotted the ball home twice in the 70th and 90th minutes to cap off a positive result.
Though the first game against Tranmere Rovers might not have pleased Liverpool supporters much, this 5-0 thrashing showed that the new signings are gelling as a unit, and Klopp's football philosophy is taking shape as well.