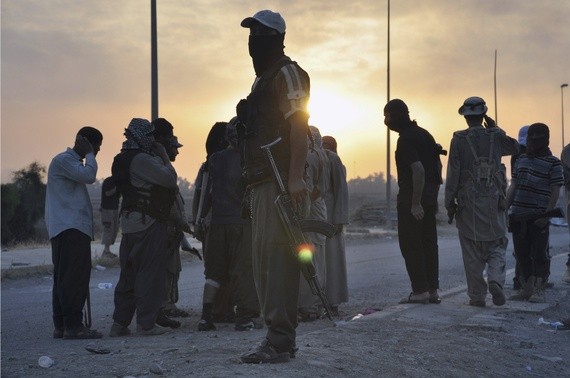 Reports suggest that the Mosul Christians while fleeing the town, following the Islamic State's ultimatum were robbed of all their belongings, including vehicles.
Mosul was captured by the Islamic State of Iraq and Syria (ISIS) jihadists earlier in June and since then the group had been targeting the local Christian population.
The group, earlier last week, gave a July 19 deadline and ordered all Mosul Christians either to convert to Islam or leave the city, else they will face death penalty.
The last of the remaining 1,500 Christians in Mosul have departed from the town, it is reported.
The Assyrian International News Agency (AINA) revealed that the Christians fleeing out of Mosul were stopped by ISIS militants at checkpoints in Araby and Shallalat neighborhoods and were robbed.
Cars, cell phones, food, money, gold, including fake jewelry, electronic items and even medicines were looted from the Christians of Mosul, AINA report noted.
In some cases families, whose car were taken away had to walk at least 42 miles all night from Mosul to reach the refugee camps in Tel Afar, and had to carry their young children on their shoulders, the report stated.
AINA reported that at least 200 families leaving Mosul confirmed that they were robbed by the ISIS militants at the checkpoints.
The ISIS militants also took away documents from the former Mosul residents. While several Christain women alleged of crucifixes being torn from their necks by ISIS soldiers at the checkpoints, the Daily Beast reported.
While thousands of Christians have fled the town, it is reported that 15 Christian families in Mosul have converted to Islam.
Unconfirmed reports claim that the ISIS terrorists have also ransacked the homes of the departed Christians, taking away anything of value they could find.
ISIS that wants to establish an Islamic Kingdom sine the departure of the Christians, has also started destroying several ancint Christian properties.
According to Al Arabiya, a 1,800-year-old Assyrian church was burned down on Saturday.
#ISIS burns 1,800-year-old church in #Mosul http://t.co/TA2hBFMyah pic.twitter.com/SK0F6jpQpX

— Al Arabiya English (@AlArabiya_Eng) July 20, 2014
Similarly the cross from St Ephrem's Cathedral, which was once the seat of the Syriac Orthodox archdiocese in Mosul, has been removed and ISIS instead has hoisted its black flag, New York Times reported.