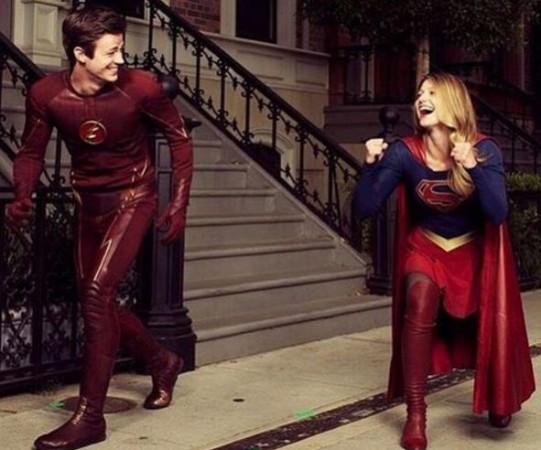 The eagerly awaited "The Flash"/"Supergirl" crossover episode will be aired Monday, March 28, 2016. Although the previously aired episode of "The Flash" did not give any clue as to what would happen in "World's Finest," it has been revealed the groundwork for the episode will be laid in the upcoming Season 2 episode 17, "Flash Back."
The fact that out-of-sync production schedules of the two shows has messed up the timeline of "The Flash and "Supergirl" has bummed a few fans out. However, considering we are getting a comicbook-style running race between Barry (Grant Gustin) and Kara (Melissa Benoist), this tiny issue can be overlooked.
Promo photos for "World's Finest" have revealed there will not be one but two supervillains for Barry to fight in National City. It had been revealed Silver Banshee (Italia Ricci), whose alter ego Siobhan Smythe is assistant to Cat (Calista Flockhart), will be the villain of the episode. However, it was not known Livewire (Brit Morgan), who was Cat's protégée Leslie Willis, will also be wreaking havoc in National City the same day.
However, Kara need not worry about her plate being too full, because the speedster from Central City is ready to step in and share the load. He will be sporting a tachyon device, like the one Dr Wells (Tom Cavanaugh) wore in Season 1 of "The Flash."
It is understood the device will help Barry cope in Supergirl's world, where the speed force is not accessible to him yet.
Don't forget to watch the "Supergirl"/"The Flash" crossover episode, titled "Worlds Finest," at 8 p.m. (EST) Monday, March 28 via CBS.