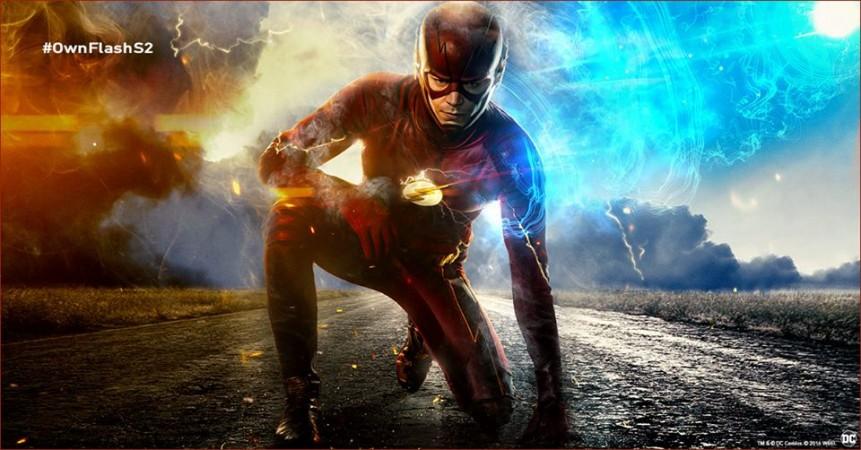 There has been no word on who Barry Allen (Grant Gustin) will fight in The Flash Season 5 but looks like we can at least put a face (or maybe mask) to it. In a bunch of on-set photos that were leaked online a day ago, Allen is seen fighting a mask-clad man of his size. In a black suit, the character has a rather firm stance and appears physically intimidating.
Now, it could either be just another meta-human or a pawn or is really the super-villain. Please note, this season will not feature a speedster as an antagonist. The Thinker was menacing; wonder who they are planning on bringing in next?
Could it be Cicada? According to the comic books, Cicada is a super meta-human whose interaction with dark matter has given him powers that allow him to de-power fellow metahumans. He's bitter from all that happened on the day the particle accelerator exploded and is on a mission to bring down anyone and everyone who was gifted with superhuman skills on that day.
What's more, we may even get to see our male lead travel back in time to fix the flashpoint. At this point, it's anybody's guess why Allen will speed back to a past, which he has already been over several times in the last few seasons.
In other news, just last month at the ACE Comic Con, Gustin let the audience in on an interesting aspect of Season 5's storyline. Nora Allen (Jessica Kennedy-Parker), Allen and wife Iris West-Allen's (Candice Patton) daughter from the future, is trapped in their time and apparently, The Flash takes it upon himself to save her from the nightmare.
"I don't know too much either. What I could presume is that we're going to see... I mean, [Nora is] trapped in our time. I think, we're probably going to see Barry trying to help her figure out a way to get back to her time. And see Barry and Iris interacting with an adult version of their child. I mean, it's going to be really cool. We're gonna see a new speedster, so. Get ready," the actor was quoted as saying.