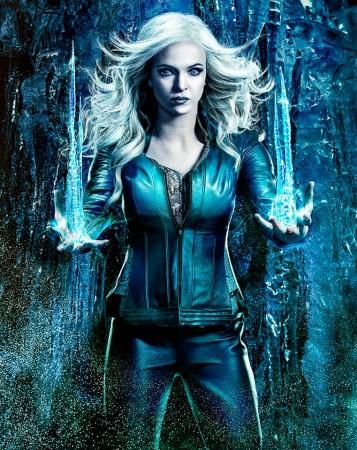 Savitar will be unmasked in next week's episode of The Flash, and Barry already knows who it is. According to one theory, Savitar is none other than Caitlin Snow's husband Ronnie, who died in Season 1.
Also read: Ashley Graham trips on red carpet, recovers quickly at Time 100 Gala
The final moments of Tuesday's episode saw Caitlin in Killer Frost mode wandering the forest and when she finally finds the god of speed he promises to get rid of her alter ego if she helps him. When Caitlin asks why she should trust him, Savitar take off his suit, revealing himself.
Killer Frost immediately pledges her loyalty to him with the simple line, "What do you need me to do?"
There are only a few people that Caitlin would trust implicitly and Ronnie is on top of the list.
Whoever is behind the mask, the big reveal is going to change the course of the show, executive producer Aaron Helbing told Entertainment Weekly in an earlier interview. "It impacts everybody and makes them question everything that they've known for the past three seasons," Helbing said, adding that the final showdown is "going to be incredibly emotional and epic at the same time — not epic in a grand scale, but epic in how it impacts everybody."
The synopsis for Season 3 episode 20 I Know Who You Are reads:
Barry and the team meet Tracy Brand, a scientist who may be the key to stopping Savitar. Unfortunately, Killer Frost is also after Tracy, so Team Flash must battle their old friend, which proves to be particularly difficult for Cisco. Meanwhile, Joe and Cecile's relationship takes a big turn.
The Flash airs Tuesdays on the CW.