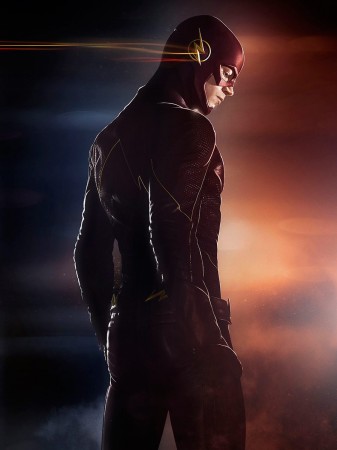 After announcing they will come back on air from 6 October, "The Flash" team is now teasing fans with a new villain. The first season of The CW series had ended with Barry Allen aka The Flash (Grant Gustin) zooming into a wormhole, in an attempt to save his Central City, and the premiere episode of Season 2 will therefore, be aptly titled "The Man Who Saved Central City".
Ahead of the Comic Con, "The Flash" team was honoured with a Saturn Award for the best superhero adaptation TV show, and during the press meets which followed, Grant Gustin told reporters that they can anticipate a "big, bad" in the upcoming season, and also confirmed that he will play the scarlet speedster in the freshman series, "Legends of Tomorrow".
"A really cool 'big bad' that's going to be revealed kind of immediately," he said regarding the new villain. This new character will mostly be unveiled along with the trailer for "The Flash" season at the San Diego Comic Con in July.
Ahead of the event, here are some super-villains we think may be introduced in the upcoming season:
Mirror Master: Like many super-villain identities, Mirror Master was the alias of two different baddies, Sam Scudder and Evan McCullough. The first Mirror Master, Sam, had utilised the power of illusion to fight the Flash first, but went on to develop technology to harness the powers of mirrors and trap people inside them. He also devised a way to use mirrors to travel from one place to another. Following his death, the mercenary Evan took over his identity and weapons.
Doctor Alchemy: A Central City police department's forensic lab director, Albert Desmond, suffered from a split personality disorder, and whenever his alter ego took over his brain, he would use his knowledge in chemistry in ways that the Flash did not approve of. Later on, he discovers the Philosopher's Stone that allowed him to transmute any element.
Killer Frost: Like we described in an earlier article, Caitlin Snow (Danielle Panabaker) is set to turn into her murderous alter ego Killer Frost in the upcoming season.
Caitlin Snow Becomes Killer Frost; All You Need to Know about DC Villain
Blackstarr: With an abnormally high IQ, Rachael Berkowitz attained a PhD at the age of 18, and mastered the secrets of the Unified Field Theory ( also known as The Theory of Everything), using which she mastered the forces of the Universe.
Who do you think will be big bad villain in 'The Flash' season 2?