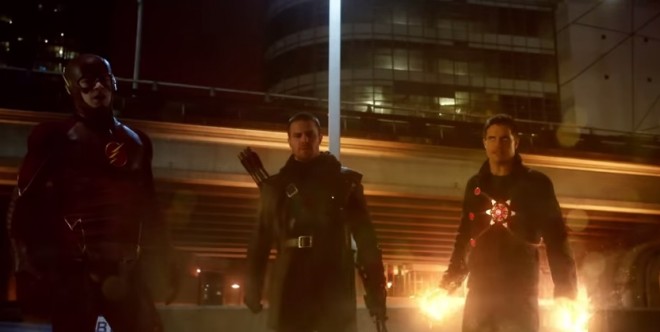 "The Flash" will air the finale of season 1 soon and from the looks of it, the six upcoming episodes to be aired in the coming weeks would be spectacular. An extended preview of "The Flash", previewed at the Wondercon in Anaheim on 5 April, Sunday, gives a sneak peek into the new villains, plot lines and "Arrow" cross-overs that can be expected for the final episodes of season 1.
In the trailer released by Warner Bros. TV, Barry (Grant Gustin) promises to Joe (Jesse L Martin) that when he does travel back in time, he will save his mother and save his father from a lifetime in prison. However, Dr Wells (Tom Cavanagh) reminds that time is a fragile construct and that changing something in the past would kick off a domino effect, much like what happened in episode 16, "Rogue Time".
Who would Barry ultimately listen to? Dr Wells, who tells Barry that a lot of people could die if his mother lives, or Joe, who reminds him that saving his mother was the reason he became The Flash in the first place?
It is also confirmed that in the upcoming episodes main stars of "Arrow" will include Atom (Brandon Routh), Felicity (Emily Bett Rickards), Detective Lance (Paul Blackthorne) and Oliver (Stephen Amell). In one scene, Amell and his cousin Robbie Amell, who plays one half of Firestorm is seen together, along with The Flash.
Another notable element for the upcoming episode, includes Emily Kinney of "The Walking Dead" fame as Bie Larvan or the gender-swapped version of the DC comics character "Bug-Eyed Bandit".
Other villains to be expected in season 1, include The Mist, Rainbow Raider, Gorilla Grodd and Weather Wizard. Iris' (Candice Patton) cop boyfriend Eddie (Rick Cosnett), who now knows Barry's secret identity, is also another possible rogue for this season, as he is seen killing two police officers and getting repeatedly hit by The Flash before getting thrown into a wall.
Look out for new episodes of "The Flash" season 1, from Tuesday, 14 April, wherein "All Star Team Up" will be aired at 8.00 pm on The CW.