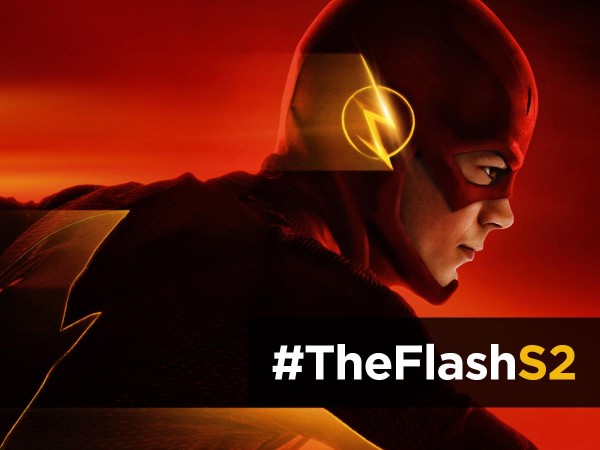 "The Flash" will return on 17 March after a mid-season hiatus, with season 1 episode 15 titled "Out of Time" on The CW. The trailer for the upcoming episode of the superhero series suggests that Cisco (Carlos Valdes) may have finally uncovered Dr Wells' (Tom Cavanagh) secret identity. But the looming question remains: can he be considered an ally of "The Flash" or is he merely using Barry?
It is known that although Barry or The Flash (Grant Gustin) is considered to be the fastest man alive, there is another meta-human out there who could be as fast as, or even faster than The Flash. The unknown meta-human was tagged as the Reverse Flash by Cisco. And while it was teased in recent episodes that Dr Wells is the man behind the mask, showrunners finally revealed on episode 14 titled "Fallout" that he is indeed the owner of the yellow suit.
Barry's surrogate father detective Joe (Jesse L. Martin) has expressed his mistrust in Dr Wells time and again, even asking Cisco to check if the person who was present at the scene of Barry's mother's murder, other than an adult Barry, was his mentor. However, Barry and even Cisco have told him that Dr Wells could do no wrong.
In the teaser for "Out of Time", it has been revealed that Cisco finally figures out STAR Labs chief's secret identity. Even Caitlin (Danielle Panabaker) seems to have understood that their boss may be the man who they think he is. In "The Sound and The Fury", his former protege Hartley Rathaway, who is also a meta-human, had warned STAR Labs team that Dr Wells should not be trusted.
They know him as the wheelchair-bound genius who is repenting the explosion that killed many people, disrupted Central City and gave birth to many dangerous meta-humans. However, in the trailer, Caitlin is seen disbelievingly staring at Dr Wells' wheelchair and his glasses, finally bringing light to the fact that he does not actually need a wheelchair.
With this new-found information, it is possible that Cisco puts together the pieces, places Dr Wells at the scene of Barry's mother's murder and brands him as the murderer. Regardless, Barry seems clueless about Dr Wells' secrets, as he is heard saying in the trailer that his mother's murderer is still out there and that he would, in the near future, travel back in time and stop him.
Meanwhile, The Flash will be battling The Weather Wizard (Liam McIntyre), who can manipulate the weather even when indoors.
Once that battle is won, Barry will once again come face-to-face with Captain Cold (Wentworth Miller) and his partner Heat Wave (Dominic Purcell) in episode 16. Barry will also be introduced to a special family member, Cold's younger sister Lisa Snart (Peyton List). According to the teasers, The Trickster (Mark Hamill) will also make his debut very soon in the show.
Watch out for "The Flash" season 1 episode 15 "Out of Time" on Tuesday.