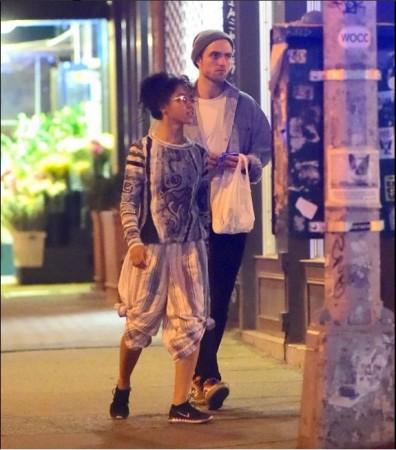 FKA Twigs and Robert Pattinson have apparently been rushing the wedding, and speculations are rife that the singer might be pregnant.
Ever since Rob and Twigs got engaged, rumours mills have been working full time. The latest has come out now as FKA recently raised a few eyebrows by appearing with a baby bump, and imitating giving birth in her latest music video 'Glass & Patron.'
This bizarre music video and the sudden engagement of the couple has gotten everyone convinced that they are expecting their first baby together.
Additionally, the singer apparently drank only juice during the engagement party at Coachella 2015. And the couple was spotted leaving doctor's office which further clarifies many other doubts.
"Witnesses noted that Twigs drank only juice at Coachella in April. And she and Rob were recently spotted leaving Los Angeles Century City Medical Plaza together," reported Celeb Dirty Laundry.
"Rob has been super protective of her lately, it's adorable. Everyone in their camp is buzzing about a baby."
In fact, on Rob's birthday on 13 May, the couple kept it low key by inviting just a few close friends for a get-together. "This would make sense if Twigs is pregnant and can't party like a rock star to commemorate the big day," the website said.
Although neither Pattinson nor Twigs have addressed the latest baby bump claims, the speculations continue to make headlines. VH1 also reported something on similar lines:
"First comes love, then comes a prenup, then comes baby...Last month we learned Robert Pattinson and FKA Twigs are engaged, and the pregnancy rumors are flying...It all started at Coachella, where Star magazine reported Twigs was spotted with a potential baby bump and wasn't seen drinking. More speculation came this week when Karen Clarkson posted a photo of the singer posing naked in the bathtub, hiding her midsection, in nothing but her engagement ring," their report said.