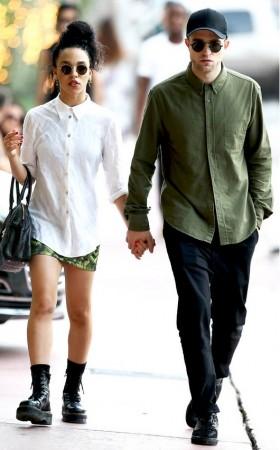 FKA Twigs seems to be losing patience. After reportedly having warned Robert Pattinson's ex Kristen Stewart to stop talking about her fiancé in public, the singer is now said to be having a tough time dealing with media attention.
Twigs is on the cover of Complex magazine's June/July 2015 issue. In her interview with the magazine, the 27-year-old has spoken about T-Pain spilling the beans on her engagement to Robert Pattinson, racist comments she receives from Robert's obsessed fans and her career.
The singer also said she's not so happy with the frenzied media following her each time she steps out with Rob, or having to do so many interviews.
"If this is what being an artist is, I'm not really sure this is for me. This [the press cycle] is horrific. I could be doing dance class right now," she said in the interview.
FKA, whose real name name is Tahliah Debrett Barnett, is apparently not able to handle the attention she's attracting from the public for her relationship with the 'Twilight' heartthrob.
According to OK! Magazine, the couple had their first blowout fight for the same reason.
"She has been ripping Rob, telling him she didn't sign up for this media circus and saying she had no idea it was going to be this bad," a source said.
"The media intrusion, hate mail from Rob's fans, his ex Kristen Stewart's interviews and Pattinson's family, who have never really approved of their engagement — it's all too much for Twigs," the source added.
Earlier, it was reported that FKA was angry with Stewart for speaking about Rob and their 'Twilight sex' scenes and that she warned Kstew from saying anything about Rob.
"She sent a message to Kristen to 'shut the f**k up' about Robert because she lost the right to speak about him in public," the reports read.
Now, with reports of the couple having heated arguments doing the rounds, it looks like FKA Twigs and Robert Pattinson need to take some time off and clear their heads.