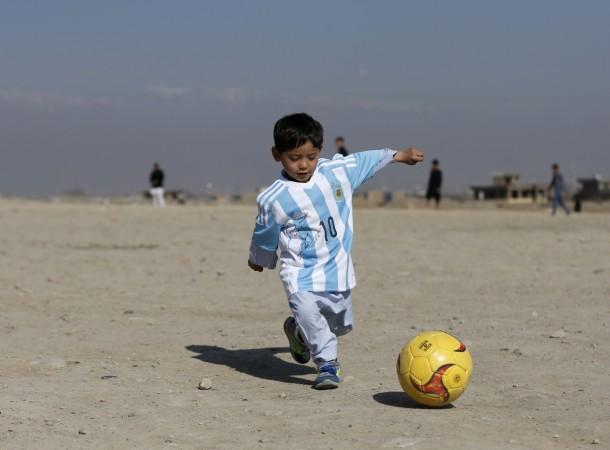 Murtaza Ahmadi, the five-year-old Lionel Messi fan from Afghanistan who made headlines this year after being photographed wearing a replica of Messi's Argentina jersey made out of a plastic bag, is back in the news. This time, however, its for all the wrong reasons.
Ahmadi's father has shifted from Afghanistan to the city of Quetta in Pakistan amid several threats. According to Ahmadi Sr, a local gangster was constantly sending kidnap threats to his family and asking for a share of the money they received after the Argentina and Barcelona superstar sent the five-year-old two signed T-shirts and a football.
"A few days ago, I got a call from a local gangster. He thought that since my son has received these T-shirts from Messi, maybe he has also received some money from him. So he wanted his share [of the money]," Mohammad Arif Ahmadi, Murtaza's father, told the BBC, adding: "It was a very risky situation for Murtaza, and so we left."
Murtaza and his family of seven members travelled to the Pakistani capital of Islamabad at first, but could not adapt to the high cost of living. Therefore, they settled in Quetta, reported the Associated Press.
As for the five-year-old Messi fan, the dreams of meeting the footballer in person some day are still as bright as ever. "Messi, you know how much I like you," Murtaza was quoted as saying by BBC. "So I want you to invite me so that I can come and see you."
The Afghan soccer federation did try on their part to arrange a meeting between Murtaza and Messi in Afghanistan as well as in Spain, but none of them seemed to work out.