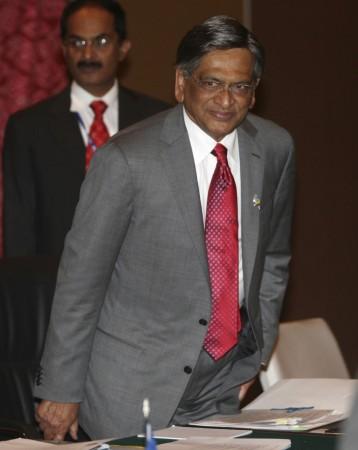 Four Cabinet Ministers and a Minister of State have resigned ahead of the Union Cabinet reshuffle on Sunday and young guns from the party are expected to be given more responsibility.
The United Progressive Alliance (UPA) government is left with many vacancies to be filled following the exit of the Trinamool Congress from the UPA, the resignations of A Raja, Dayanidhi Maran and Virbhadra Singh, as the death of Vilasrao Deshmukh.
Following External Affairs Minister SM Krishna, who resigned on Friday saying that he would give way to the younger leaders in the party, Information and Broadcasting Minister Ambika Soni, Social Justice and Empowerment Minister Mukul Wasnik, Tourism Minister Subodh Kant Sahai and MoS Justice and Empowerment Mahadev Khandela resigned on Saturday.
It is reported that Coal Minister Sriprakash Jaiswal, Rural Development Minister Jairam Ramesh and Minister of Steel Beni Prasad Verma are also likely to be dropped from the cabinet. Several ministers, who hold more than one portfolio, are expected to part with one.
As SM Krishna hinted, Sachin Pilot, Jyotiraditya Madhavrao Scindia and Jitin Prasada, Ratanjit Pratap Narain Singh and Milind Deora could be promoted to the cabinet level, or at least be made minister of state by stripping portfolios from ministers who hold more than one portfolio.
Other MPs, who could be promoted, include actor-turned politician Chiranjeevi from Andhra Pradesh and AH Khan Chowdhry from West Bengal. It is also rumoured that Commerce Minister Anand Sharma could be promoted to External Affairs Minister.
The party if tight-lipped about Congress General Secretary Rahul Gandhi but it is reported that he might be promoted to working president or vice president.
The swearing-in ceremony of the new ministers is scheduled to take place at the Rashtrapati Bhavan on Sunday morning.