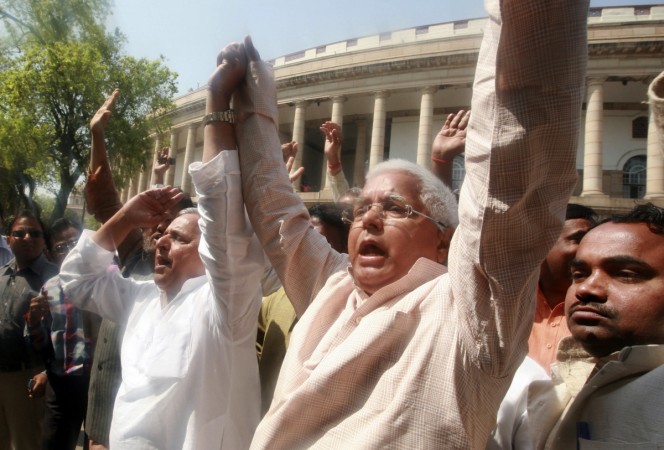 Five regional parties, also referred to as the 'Janata Parivar,' announced their merger on Thursday to counter a rising BJP.
The merger was led by Samajwadi Party (SP) chief Mulayam Singh Yadav, who will be head of the new party called "Samajwadi Janata Dal."
The five parties are: Samajwadi Party (SP), Janata Dal (United), Janata Dal (S) and Indian National Lok Dal (INLD) and Rashtriya Janata Dal (RJD).
"Mulayam Singh has been authorized to work on a merger. We have already decided to work together. Now the next step is a merger to form one party. Mulayam Singh will proceed on that," NDTV quoted Janata Dal (United), or JD (U) leader Nitish Kumar as saying.
The decision to fight the ruling BJP was initially taken last month when leaders of the parties attended a lunch hosted by Yadav at his home.
It was during this meeting that they decided to take a united stand against the NDA government's failures in fulfilling promises made by Prime Minister Narendra Modi.
Theu will also stage a protest on 22 December against the BJP Government in this regard.
"The JD (U) is hopeful and keen on a merger of our parties. It is time for us to come together and jointly confront the challenges facing the country," Nitish Kumar told Hindustan Times.
"The Janata parivar merger should be seen as the first step in the direction of consolidating secular forces. Other like-minded parties could join at a later stage. Even the Congress and the Left parties are likely to support this secular formation," said JD (U) spokesperson KC Tyagi.
The 'Janta Parivar' has invited other "like-minded" people and parties to merge with them. However, the Congress seems to be unsure of parties' tie-up to remain intact for long.
"Old socialists are known for their typical characteristics. They cannot live without each other for a long time. But they also cannot live together for more than one year," Senior Congress leader Shakeel Ahmed said.