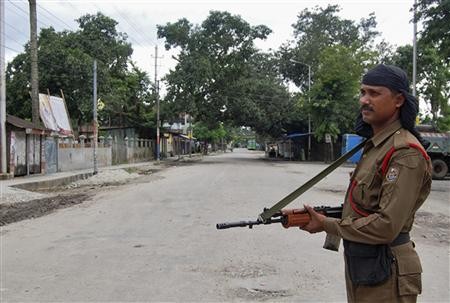 Fresh violence flared up in Assam on Saturday when at least five people were stabbed to death, bringing the death toll of the ethnic violence in the state to 85.
According to First Post, the incident reportedly took place at around 5.30pm in Chirag district, when the five were returning to their homes from the refugee camps. Police are yet to identify the bodies of the deceased.
Following the attacks an indefinite curfew was imposed in the district. Additional security forces were also deployed to ward off similar attacks in the region, Press Trust of India said.
The fresh violence was reported on the same day Karnataka Deputy Chief Minister R Ashoka started his three-day visit to Assam to convince North-East immigrants to return to the southern cities in India following last week's mass exodus.
"There has been no major incident of violence in Karnataka. There have only been a few verbal threats. I met many students and professionals who have fled from Bangalore. I assured them of all protection," Ashoka said according to the news agency.
He also met Assam Chief Minister Tarun Gogoi and discussed preventive and security measures taken by Karnataka government to ensure the security of the people from the North-East. The Karnataka government is presently in talks with the railway department to arrange special trains from Guwahati to bring back the people to Bangalore.
"I am sure they will return. We are one nation and all of us are Indians," he further added. According to reports, around 34,627 North East migrants have fled the southern city fearing possible repercussions of the Assam violence.