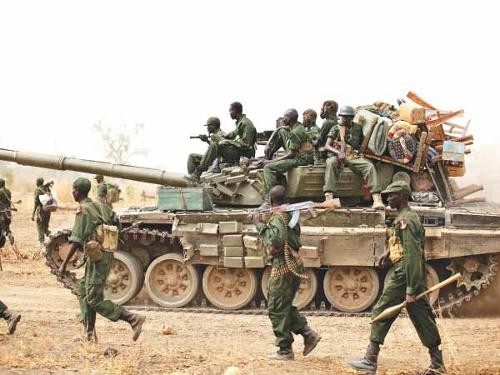 Five Indian soldiers belonging to the UN peace keeping convoy in South Sudan were killed in an ambush, reported PTI.
The Indian personnel posted in the war torn nation were part of the UN Mission in the Republic of South Sudan (UNMISS).
Lt. Colonel Mahipal Singh, Havaldars Heera Lal and Bharat Sasmal, Naik Subedar Shiv Kumar Pal and Sipahi Naval Kishore were killed and four others injured when the 32-member patrol team was leading the UN convoy in Gumuruk, in the troubled Jonglei State.
"The rebels opened indiscriminate fire with small arms and rocket-propelled grenades. Our soldiers retaliated to protect the convoy. The fierce gunfight continued for around an hour...seven civilians were also killed in the incident, as per the reports we have got," an official said, according to The Times of India.
Syed Akbaruddin of the External Affairs Ministry told Times Now, "The casualties including the injured are being brought back to Juba, the capital of South Sudan by a UN helicopter. The injured will be provided with immediate medical treatment and will be shifted later upon medical advice."
Defence minister AK Antony expressed condolence saying, "The bravery exhibited by the Indian soldiers in the highest traditions of the Indian Army and in contribution to the peace and security in the world".
UN Chief Ban Ki-Moon strongly criticised the brutal attack on the peace keeping soldiers. "He condemns in the strongest terms the killing of five Indian peacekeepers and two UNMISS national staff and five civilian staff contractors," said Ban's spokesperson.
The United States also came forward to express dismay over the attack and pushed for an investigation into the killings.