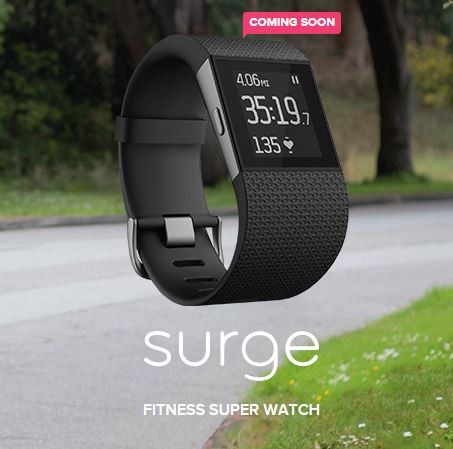 Fitbit has announced a new Smartwatch Surge along with two fitness bands named Charge and Charge HR.
In their official website, Fitbit claims Surge as a super watch for fitness at ₹15,300 approximately (249 USD).
Integrating eight sensors and a GPS tracker, this Smartwatch can transfer the user's entire physical activities to the app, so that it can show an accumulated data as reports and graphs. This app will also be able to set new physical activity goals for the user.
Boasting an OLED screen, the Surge will offer touch controls and will allow users to control music and will also be able to check their heart rate. It can also send calls and text notification to the user.
The Fitbit Surge will also offer enhanced integration with Microsoft's Cortana, if paired with a Windows smartphone.
The Fitbit Charge will be a cheaper alternative to the Surge and will sacrifice heart rate monitor and GPS tracker. To cut the cost, it will also feature a smaller display. With a retail cost of ₹8,000 (129 USD), the Charge will get seven days of battery life on a single charge.
The other member of this series Charge HR, will cost in between these two and will add the heart rate monitor with it. This fitness band will stay five days in a single charge and will be available for ₹9,133 approx (149 USD).
Fitbit hasn't explained the battery life of its flagship model Surge. All the three models will be available by the beginning of 2015 through the company's website and stores.
The Surge Smartwatch and fitness bands will have to fight directly with Apple Watch and popular Android alternatives like Samsung Gear Live, Moto 360, LG G Watch and Pebble series of Smartwatches.
The contest will be more interesting once Microsoft and Blackberry rolls out their new devices.