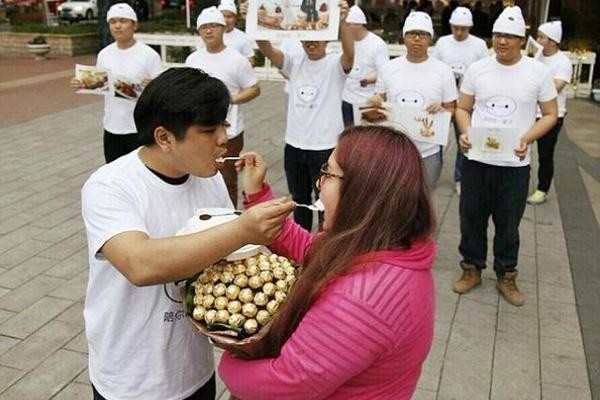 A possessive Chinese boy overfed his attractive girlfriend for two years so that she doesnt leave him for other potential suitors.
You Pan, 25, and Yan Tai, 20, began dating in South China's Guangdong Province two years ago. Since then, apart from heavy breakfast, lunch and dinner, You Pan used to offer her snacks at short intervals. He also used to wake her up in the middle of the night to feed her with snacks.
Yan Tai, who earlier weighed just 45 kg, is now around 90 kg. Pan recently proposed Tai with a Ferrero Roche chocolate bouquet, and she said "Yes".
The proposal photos have been doing the rounds on social media, in which their friends are seen holding the photos of their favourite dishes outside a restaurant.
While some called it "romantic", many criticised it saying it's not love, but an act of jealously and "terrorism" by a crazy boyfriend.
Meanwhile, some Twitterati confessed to having such a boyfriend who feeds them a lot.
Check out the Twitter Reactions Below:
Angie
This isn't love, it's terrorism
Binar Nurul
A whole new level of overly attached boyfriend.
Dannie
This is abusive behavior. One guy went to great lengths to ensure his GF wouldn't leave
AIMS
WHY CAN'T I JUST BE SKINNY?! Everything was fine until I got a boyfriend! He fattens me up
Jamie
This boyfriend of mine really pampers me too much, make me feel like a princess while he fattens me up. Gained about 5kg since we were tgt.
Check out the photos of the couple below:
Boyfriend Reportedly 'Fattened Up' Girlfriend To Deter Other Men http://t.co/SScbEXDoQS pic.twitter.com/iuZjDHG5Na

— Integrity Angel (@SincereAngels) April 15, 2015
Jealous boyfriend fattens up girlfriend to scare away potential suitors! http://t.co/Nn1XI2dURR pic.twitter.com/ATb6OpjZ2V — Life & Style Weekly (@Life_and_Style) April 16, 2015
This man did the unthinkable to make sure his GF wouldn't leave & this is how she handled it — http://t.co/SL00L9MBhW pic.twitter.com/sRQrGbSGv8

— In Touch Weekly (@intouchweekly) April 15, 2015