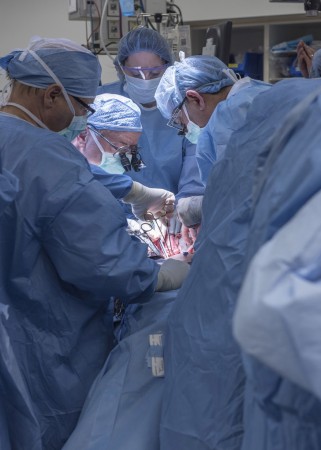 The first uterus transplant in the U.S. has failed as the 26-year-old woman who received the organ developed complications, the Cleveland Clinic, which had performed the surgery last month, said Wednesday.
The patient had to have the organ removed because of the complication, the clinic said in a statement. "We are saddened to share that our patient, Lindsey, recently experienced a sudden complication that led to the removal of her transplanted uterus," the clinic said.
The clinic said there is always a risk in a solid organ transplantation resulting in the removal of the transplanted organ if complications arise.
Although the medical team took all the necessary precautions and measures to ensure patient's safety, it has been a difficult exercise for both the patient and the medical team. Lindsey is doing well and recovering, the clinic said.
The clinic also posted a statement from the patient in which she said: "I just wanted to take a moment to express my gratitude towards all of my doctors. They acted very quickly to ensure my health and safety. Unfortunately I did lose the uterus to complications. However, I am doing okay and appreciate all of your prayers and good thoughts."
A team of surgeons performed the first uterus transplant of the U.S. last month during a nine-hour operation .The organ came from a deceased donor.
Meanwhile, the uterus transplant study of the clinic will continue with advancement of medical research to provide an additional option for women and their families.
Uterine factor infertility (UFI) is a condition under which a woman cannot become pregnant because she does not have a uterus. It is an irreversible condition affecting three percent to five percent women worldwide, CNN reported.
Although this was the first uterus transplant in the U.S, a team of doctors at the University of Gothenburg in Sweden has performed nine of them.