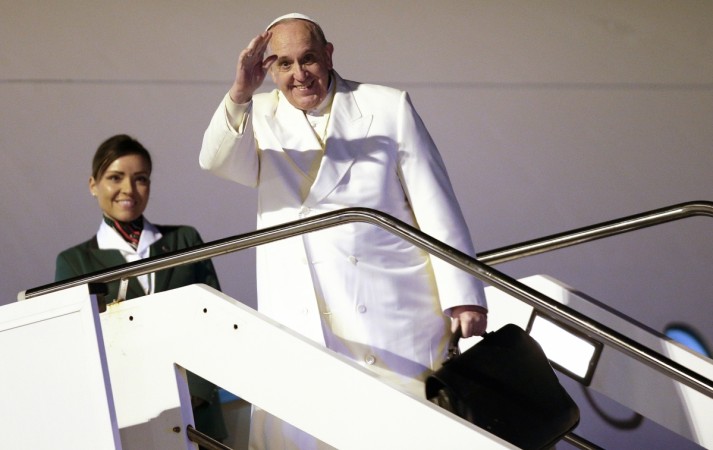 The first papal visit to Sri Lanka, after the end of the civil war in 2009, began on Tuesday with Pope Francis asking the island nation to seek the "truth" behind the civil war, in order to strengthen peace efforts.
"The process of healing also needs to include the pursuit of truth, not for the sake of opening old wounds, but rather as a necessary means of promoting justice, healing and unity," he said on arrival at Bandaranaike international airport, reports Reuters.
Pope Francis arrived early morning in Colombo, as part of his six-day Asia tour to spread the message of "mercy and compassion". The Pope is expected to travel to Philippines next.
His itinerary includes a seaside mass and a visit to Sri Lanka's holiest shrine, which helped house refugees during the 26-year civil war.
He will also meet the newly-elected President Maithripala Sirisena, who has promised to quell violence against religious minorities that prevailed during his predecessor Mahinda Rajapaksa's rule, reports BBC.
Excited Sri Lankans were seen waiting on the roads just outside the airport since 7.30 am to see him; his scheduled arrival was at 9 am.
The pontiff was first greeted by a young boy, then a young girl, who presented him with a large garland. He then walked on a long red carpet, as Sri Lankan dancers performed for him on both sides.
A procession of decorated elephants also sauntered up the road heading to the airport, to greet the Pope.
Experts see the visit as an attempt by the Pope to win new followers in Asia.
"Pope Francis is reaching out to the peripheries... Catholics who are in difficulties and afraid, and, in this case, a minority Church in a comparatively small nation," Robert J. Wister, professor of church history at Seton Hall University's Immaculate Conception Seminary School of Theology was quoted by Business World as saying.
The Pope wants to encourage the local Catholic population in Sri Lanka, comprising about 6.5 percent of Sri Lanka's 20.4 million population, to "seek partners in peace, so that all religions can stand united against any further violence or intimidation by religious extremists."