The first look posters of "Cousins" starring Kunckacko Boban, Indrajith, Vedika , Nisha Aggarwal, Suraj Venjaramoodu and Joju George are released.
The first poster of "Cousins" is set in warm deep colours of red and is filled with tones and textures. The poster features Kunchacko and Vedika sitting face to face on a decorated window. The mood of the poster is highly romantic. The rough brick texture of the wall and smooth sunlight behind it add contrast to the poster and proves to be a charming one.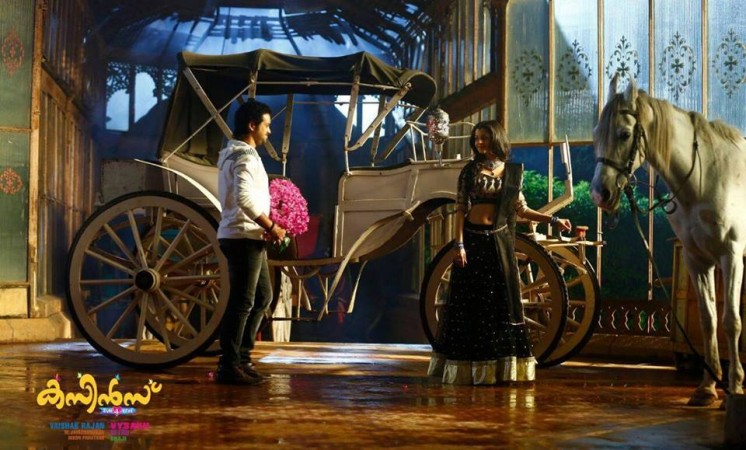 The second poster is again set in a romantic mood, in an old aristocratic space. It gives a notion that Vedika's character belongs to a royal family. The poster has also used lights in the best possible way with warm colours in the foreground and cool colours in the background. The poster looks like a scene from the film where Kunchacko comes to meet Vedika with a bunch of flowers for her. The chariot and the white horse add to the visual pleasure of the poster.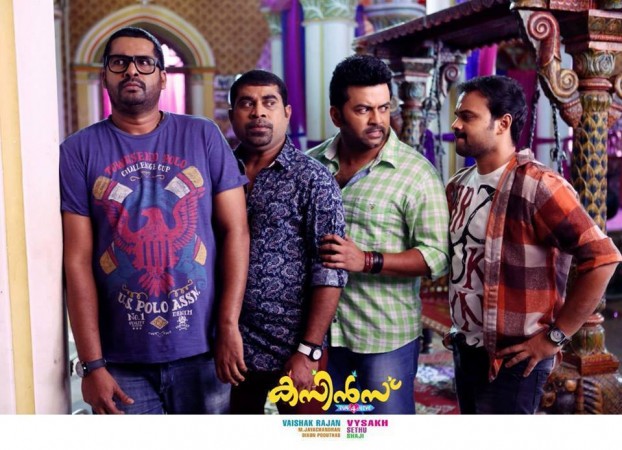 The third poster of the film is set in a comic mood with the four cousins played by Kunchacko, Indrajith, Suraj Venjaramoodu and Joju George. While Joju looks like hiding from someone, Suraj is seen listening deeply to the conversation between Indrajith and Kunchacko. The poster assures audience that the film is not just about romance, but has laughter elements in it.
The last poster introduces the character played by Nisha. This poster again tells us that the film is set in a royal background. The scene in the poster is a dining hall sequence where Nisha is seen introducing the guest to Vedika. This poster has also used deep colours and hues of red, yellow, orange, pink, blue and violet. Great variations in textures and tone add drama to the scene.
The overall look of "Cousins" posters is charming and gives a positive feel about this romantic comedy film. The film also has Pradeep Rawath, Kalabhavan Shajon, P. Balachandran, Santhosh and Shiju in pivotal roles.
"Cousins" is scripted by Sethu of Sachi-Sethu combination. The songs are composed by M. Jayachandran, which are penned by Murukan Kattakada and Rafeek Ahammed. While the cinematography is done by Vinod Illampally, the art direction is by Joseph Nellickal.