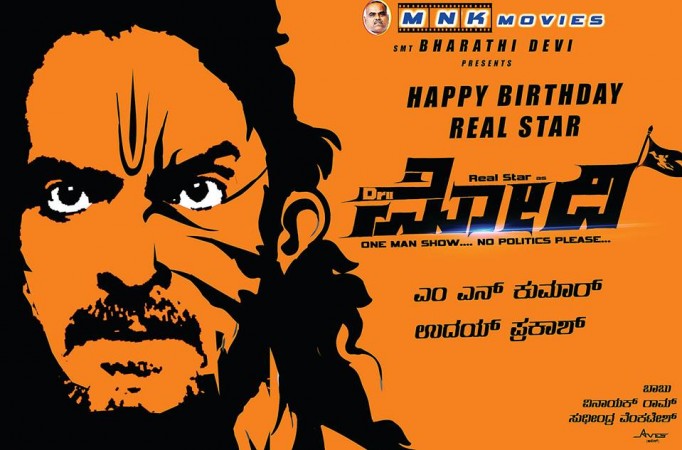 The first look of Upendra's Modi has hit the internet with a bang. The poster has been unveiled ahead of the Real Star's birthday on Sunday, Sept. 18. The makers have taken inspiration from Lord Hanuman's painting by Karan Acharya.
There was a buzz that although it was inspired by Karan Acharya's painting, the makers failed to give credit to the painter. Refusing the rumours, director Uday Prakash told International Business Times, India, "Only a layer has been inspired and we have taken permission from Karan Acharya."
Talking about the title, the director said, "The film has nothing to do with politics or Hindutva. It is all about the positive thoughts of the Prime Minister." Modi is coming up with a caption - One man show...no politics please.
The shooting of Modi will commence in October after the completion of Upendra's forthcoming movie Upendra Matte Hutti Baa, Inti Prema. The director is yet to finalise his cast and crew and he will be announcing it soon.
Upendra's Birthday Celebrations
Meanwhile, Upendra's fans are ready for the birthday celebrations of their favourite icon. The Real Star will turn 48 on Sunday. But this time, he is keeping it a low-key event as Karnataka is yet to fully recover from recent Cauvery unrest.
Upendra is also gearing up for his next release "Mukunda Murari," which will release in the first week of October.