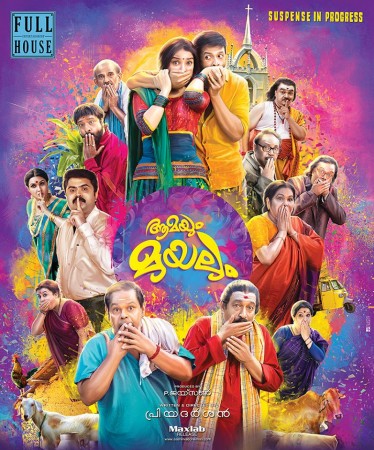 The first-look poster of Priyadarshan's upcoming film, with Jayasurya in the lead, has been released. The poster of "Aamayum Muyalum" introduces the characters and their respective looks in the film, while also indicating that the movie is going to be a complete laugh-riot.
Priyadarshan films are always been amusing for the Malayalis, and this new poster will have cine-lovers waiting for more. One thing that the poster guarantees is that the film will be a light comedy -- an underlying element in all Priyadarshan films.
The most noticeable aspect of the poster is the colours that are used for the design, which signifies a splash of different moods. Another aspect is the expressions and look of the characters. Jayasurya is seen placing his hands against the actress' (Pia Bajpai) mouth and other characters also seen trying to gag a few others.
Each actor in the movie sports a different look in terms of makeup and costumes. Since it is a Priyadarshan movie, one cannot expect to know more about the film until it hits the screen, but Jayasurya had earlier revealed that this film will be along the lines of Priyadarshan's hit film "Thenmavin Kombathu" starring Mohanlal and Shobhana.
This upcoming comedy entertainer is scripted by Priyadarshan himself. It is after a long time that the ace director has written the script for a Malayalam film. The last film that he scripted was 2005 Dileep-starrer "Vettam". Therefore, Priyadarshan fans have high hopes from this film.
"Aamayum Muyalum" has been touted as being different for two reasons: First, Priyadarshan is known for doing films with superstars, but this time, the director ditched his usual lead stars and opted for a younger star Jayasurya for playing the lead role. Second, Priyadarshan has penned a song for the film, which will be composed by singer-composer MG Sreekumar.
The film has been noticed for its strong star casts which are led by a league of actors who are often referred to as pioneers of comedy genre in Malayalam cinema. Innocent, Nedumudi Venu, Harishree Ashokan, Manianpilla Raju, Mamookoya, KPAC Lalitha, Edavela Babu, Nandu and Anoop Menon are lined in this film to entertain the audience.
"Aamayum Muyalum" is produced by P Jayson under the banner of Full House Entertainment and will hit the theatres on Christmas.