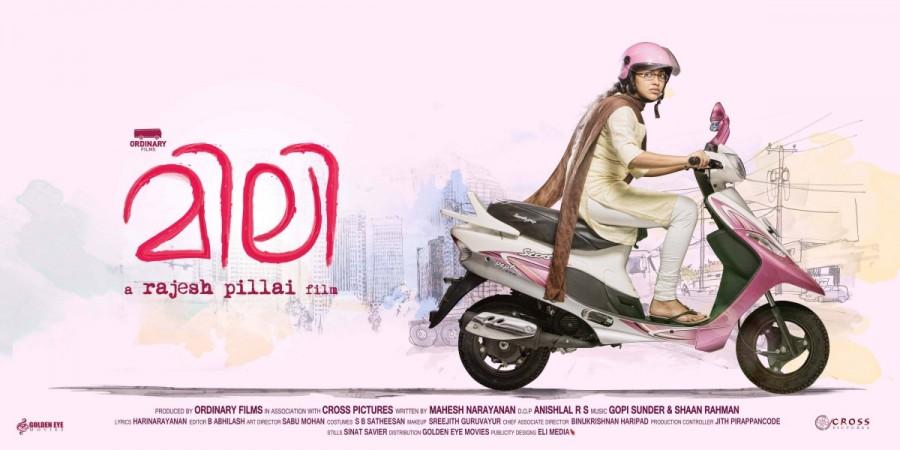 The first-look poster of Rajesh Pillai's "Mili" is released. The film, which has Amala Paul and Nivin Pauly in the lead, is Rajesh's second directorial after the super-hit "Traffic" (2011). The poster introduces Amala Paul, riding a scooter.
The shooting of "Mili" has been making news since its announcement and the shooting had begun in May 2015. Audience will see Amala Paul in a de-glam look in this women-centric film.
"It has been quite a journey, after I stepped into the movies," Amala wrote on her Facebook page. "The one closest to my heart 'Mynaa' where I played a school girl still. God's Grace am, again playing the school girl in my new flick 'Mili', which is again quite an experience.
"'MILI' the emotional mixture of hardships, shoot going continuously for more than 24 hours, fun and above all camaraderie. When I look back I feel like living every moment of it once again from the first day of the shoot. Yes I am filming a dream, 'Mili'," she added.
It is touted as a motivational film with commercial elements, where Amala Paul will reprise Mili, which is said to be a challenging role for the actress. Her character is an introvert, who wants to lead a strong and independent life.
Meanwhile, Nivin will play the character of Naveen, who is a soft-skills trainer and a big part of Mili's life. Like Rajesh's previous project, "Traffic", this movie is also said to have a message in the end and the shooting of the movie was wrapped up on 9 November.
"...One important lesson I've learnt along the way is that nothing in life is ever a cakewalk irrespective of a success behind you," said the director after the wrap-up of the film. "Today, I'm glad and gratified that I've overcome the obstacles and difficulties and would like to thank each and every member of the cast and crew for walking this dream with me."
"Mili" is scripted by Mahesh Narayanan, who had edited films including "Beautiful", "Traffic", "Mumbai Police" and "Vishudhan." The film also has a cast of Kasthuri, Shamna Kasim, Praveena, Sanusha, Soumya Sadanandan, Sai Kumar and Sreerag Nambiar.
"Mili" is expected to hit theatres as a New Year release and is produced by Ordinary Films.