Well, it seems little Aaradhya will no more remain a cloaked mystery to the world.
Finally, the newest member of the Bachchan clan has been captured by the shutterbugs and the sever-month-old tot can be seen in the video here.
Despite copious efforts to shield the toddler from the world, her "over-protective" mum couldn't escape the scanners of an entertainment channel who claims to have got a clear glimpse of Beti B' face at a recent event.
The picture are presumably of June 01, when Aish was spotted with daughter at the Mumbai's Chhatrapati Shivaji International Airport, the actress was returning from France after attending the 65th Cannes Film Festival with Beti B.
The lensman of music channel E24 caught on camera the little bundle of joy, who has created a lot of buzz since the day she was born to her superstar mom, former Miss World Aishwarya Rai.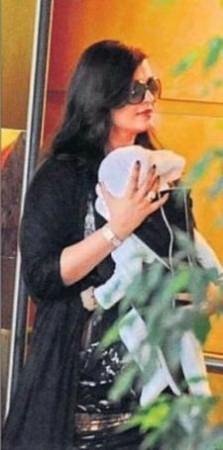 In the video shown on the television channel, Beti B is seen gazing into the camera with her curious "brown eyes" while being tenderly cradled by her mom in a baby-carrier.
The child looked quite similar to the description that a fan had given, earlier this month. Anisah Hussain, a lucky fan, who meet Aishwarya with her baby in London recently, revealed on Twitter that Beti B "is really cute, she has pretty eyes and eyelashes! shes a bit browner than aishwarya but very cute!."
Apart from the fan, Bollywood's "Dhak Dhak" girl Madhuri Dixt has also had the opportunity to have seen Beti B's photo. She "wowed" a lot as father Abhishek showed the little one's pictures to the actress at a dance reality show "Jhalak Dikhla Ja."
Last week, Jaya Bachchan created quite a buzz with her revelation about the looks of her angelic granddaughter, who she fondly calls by the name "Strawberry."
"Aaradhya looks like a bit of Aishwarya and a bit of Abhishek... She's a tall girl," Jaya Bachchan had said in a recent interview, swiftly gushing that Aaradhya is "beautiful, always smiling... is now trying to crawl."
The elated grandmother also revealed that "Aaradhya is a very lucky girl, having a nurse like Miss World Aishwarya!"
Here are some screen-grabs from the video:
Take a look at all that we know from the past:
Related Articles:
Aishwarya Rai's Baby Aaradhya Gets a New Nickname 'Strawberry' and Ex-Miss World as Nurse
Aishwarya Rai's Daughter Aaradhya is 'Tall, Beautiful and Has Started Crawling,' Says Grandmom Jaya Bachchan
Aishwarya Rai Bachchan Living a 'Blissful' Dream with Angelic 'Brown Eyed' Aaradhya; Has No Plans to Comeback on Screen
Aishwarya Rai's Beti B Captured At France Airport: Aaradhya Went to Cannes, But Didn't Debut at Red Carpet